Perugia
Umbra Blog
Umbra Reps
A Guide to Creative Perugia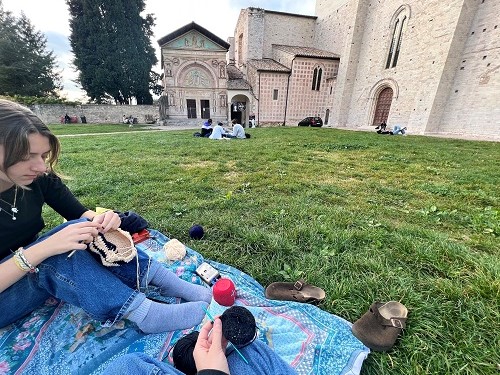 By Jacqueline Inman, University of Vermont
Perugia is home to many amazing sights for visitors to see: the Etruscan Well, the National Gallery of Umbria, stores, and restaurants in the central piazzas, and panoramic views from Porta Sole. But, when you're staying in Perugia for an extended visit, like the students at the Umbra Institute, there is room to make your Perugian experience your own, finding the best spots off the beaten path. After having spent just over two months in Perugia, these are the places I would recommend visiting if you are interested in the creative sides of Perugia.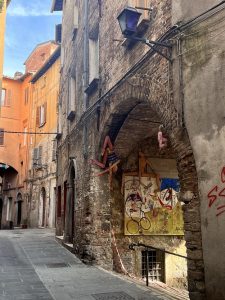 Via della Viola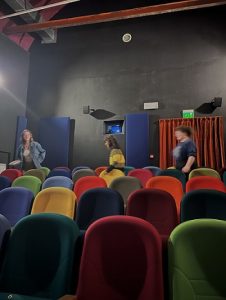 Via della Viola is a street not far from the central Piazza Novembre IV, offering an artistic side of Perugia. Funky and colorful murals line the street, along with some of the coziest bars and restaurants, such as Civico 25 and La Fame. The street is home to Perugia's movie theater, Postmodernismo, which screens many independent films. The stylish theater doubles as a bar and hosts community arts events. Every Wednesday, they show movies in English, creating a great mid-week activity for English-speaking students. Postmodernismo is a vastly different environment from a chain AMC theater that you would find in the U.S., providing the viewer with a classy movie-watching experience. It may not sell slushies and heaping bags of popcorn, but you can get a cocktail or glass of wine to go along with your movie.
Corso Cavour
Corso Cavour is another Perugian street that took me a few weeks to happen upon. If you walk down the long stairway of Sant'Ercolano, you will end up on Corso Cavour, immediately greeted by some of the spots that I would recommend spending time in.
Paradiso 518 arts bookshop, Caffè Della Penna, and Lick Gelato are clustered near each other on Corso Cavour. Paradiso 518 is not the average bookstore but describes itself as an art bookshop and micro-gallery. It is an intriguing place to browse around, full of creative books and magazines set up to make the store an aesthetic experience. Right across from Paradiso 518 is Caffè Della Penna, a particularly cozy cafe and my favorite place to study. Della Penna has a sitting room in the back of the café with a warm ambiance like no other café I have been to in Perugia. Finally, Lick Gelato, next to Paradiso 518, is well-known in Perugia for some of the best gelato around. Lick is an artisan-style gelato and cake shop, and is a must if you enjoy fun and unique gelato flavors.
Pian di Massiano Saturday Market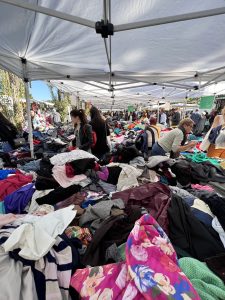 If you're interested in shopping for cheap, second-hand, or vintage clothing, the Pian di Massiano Market that occurs every Saturday is the place to go. From the Pincetto mini metro stop that is located right near the historic center of Perugia, it is a 15-minute ride down the hill to the last stop of the mini metro called Pian di Massiano.
There are a wide variety of goods sold at the market, including sandwiches, fruit, jewelry, home goods, and my favorite part – vintage clothing. Clothing stands make up most of the market, offering tables piled high with second-hand, generally high-quality items for people to sift and dig through. The clothes mostly range in price from 1 to 5 euros. The market opens at 8 am and goes until 1 pm on Saturdays, so there is plenty of time to search through the never-ending heaps of clothing.
Piazza San Francesco
Finally, when it's a beautiful day and you're tired from walking around the hilly town of Perugia, you can find a grassy area to lay down on a blanket in front of the beautiful Church of San Francesco al Prato. This is my favorite place to go with friends to read a book, listen to music, or just soak up the sun if it's out. An added plus of this area is that there is functional wifi that you can connect to, making homework or studying possible from outside.
There are many more wonderful places to see in Perugia, and I am constantly discovering new ones. But, if you are looking for creative and cozy places to visit in Perugia that might not be found in your first google search, these suggestions are worth the visit.