Community Engagement
Education
Umbra Blog
Umbra Reps
Umbra's Critical Disabilities Class Partners with VIVA Sports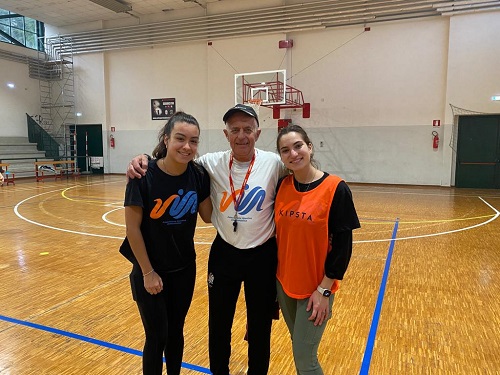 By Angelie Roche, St. Mary's College of Maryland
Many of the classes offered at Umbra include a service learning component, which enriches students' education through unique community engagement opportunities. One such course is Critical Disabilities, which includes a weekly practicum wherein students go to Perugia's community gym and assist with VIVA sports, an association that partners with professional athletic instructors to provide physical education to individuals with disabilities. VIVA was founded by Gabriele Bartolucci in 2011, and since then it has become one of the largest Italian organizations for individuals with special needs. According to Community Engagement Coordinator Manuel Barbato, the partnership between Umbra and VIVA began in 2016 and has since been a core component of the Critical Disabilities class.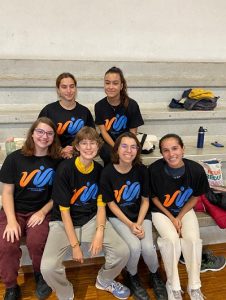 Once a week, students take buses to the gym and spend three hours assisting sports instructors and participants with their activities. Student volunteers are not obligated to participate for the entire session, and are not given specific "tasks"; rather, they are invited to step in and help whenever they feel comfortable. That could mean assisting staff with dance lessons, ping pong, basketball, or even working one-on-one with a participant who looks lost or overwhelmed.
When I began going to the gym with my classmates, we were nervous – it was our first full "cultural immersion" experience, as hardly anyone spoke English and we were not exactly sure how we would fit in the chaotic, active environment. Soon enough, though, we pushed ourselves to participate. My classmate Xea Kirkland said, "[At first] I really struggled to talk with people, but the more I did it the more I got used to the uncertainty." Since then, we've started to get to know the participants who come every week, and build trusting relationships with them. The language barrier is not always easy, but we've found nonverbal ways to communicate as well– sometimes that means demonstrating the activity yourself, or taking the initiative to go up to someone who's sitting on the sidelines and motion for them to come join.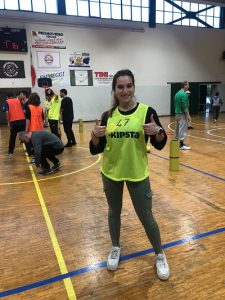 Physical disabilities are never seen as limitations there, and a huge part of working at VIVA is being able to see people as individuals and modifying each activity for them. If a child has a sight impairment, instructors might focus on building their other senses, encouraging them to crawl across mats or using tapping to direct their attention. Participants in wheelchairs are never separated from others; rather, instructors will find ways to modify parts of the obstacle course to ensure they can do every activity. Dance lessons are slow-paced and often change for each group, depending on the participants' capabilities. This focus on ability rather than disability has helped reframe my mindset and build empathy between participants and instructors – everyone is equal there.
The most valuable part of the classes I've had here is what happens outside the classroom, especially when it involves engaging with people who are different from myself. The best sort of learning pushes students to challenge themselves, both socially and intellectually, whether that means trying to speak in a different language or learning to communicate without using language at all. Being at VIVA has brought not only a greater understanding of others, but a sense of joy and community – an ability to laugh at myself when I don't make a basket, or cheer for someone else when they do.