Psychology
Umbra Blog
Umbra Reps
MPP Workshop Brings Italian and American Students Together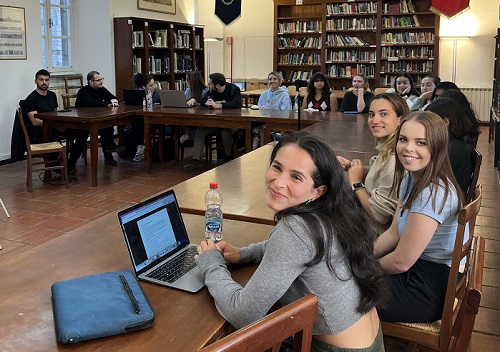 By Angelie Roche, St. Mary's College of Maryland
On October 11, Umbra's Multicultural Psychology program held a workshop entitled "Can you meet me halfway?" which taught students to use their similarities and differences as "a starting point for inclusion" through cross-cultural conversations. Students in Umbra's Multicultural Psychology program and the University of Perugia's Psychology program split up into small groups and held guided discussions wherein they asked one another questions about their hobbies and interests, their reasons for pursuing psychology, as well as their home culture. Ultimately, they were tasked with finding five similarities and differences between group members as well as a song and an image that represented their group. In the end, everyone met back up and shared what they discussed.
This workshop was different from other Multicultural Psychology workshops because it did not include any sort of lecture; the entire class was focused on building students' connections and fostering discussions. Students' conversations brought together two very different cultures and helped both Italians and Americans learn more about one another. University of Perugia student Maria Mirandi shared, "I always thought that Americans were very open-minded, and this experience confirmed my impression," and Giulia Gizzi added, "I felt at ease as if I were talking to people I already knew." Even casual conversations about cultural differences became very lively and involved; according to Umbra student Katya Scott, students discussed everything ranging from Italian vs. American coffee (they agreed that Italian coffee was superior) to differences in schooling systems. She said, "We talked a lot about the differences between our universities, and how long it takes to get a degree. For instance, undergraduate programs in Italy typically last only 3 years, compared to 4 in America."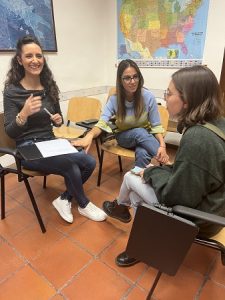 Of course, one of the main difficulties groups faced was getting over the language barrier, as students' English and Italian skills varied significantly. Antonio Casenza, another University of Perugia student, said that he was surprised by Umbra students' friendliness; he had thought they would be "much more reserved in relation to the language barrier," and instead found that they were extremely open-minded and willing to communicate. The students also enjoyed talking about which areas of Psychology interested them, and which fields they wanted to go into. Katya's group shared a passion for research in clinical psychology and discussed the importance of listening in therapeutic settings.
Umbra's Multicultural psychology program is just as much about giving students the knowledge they need to understand other cultures as it is about giving them real-world cultural immersion experiences. Conversations with Italian students are just the beginning! Some classes in the program involve volunteering in community settings; for instance, the Human Development in Culture class is centered around a service learning project wherein students design an English lesson to be taught in an Italian middle school, and Critical Disabilities works with VIVA Sports, an organization serving individuals with disabilities. So far, this program has equipped students with skills they could not have learned anywhere else and fostered unique conversations that students will likely carry with them as they pursue careers in Psychology. Speaking about the program as a whole, Katya said, "the opportunities to connect with Italian culture are exactly what I came here for."
To learn more, check out Umbra's Multicultural Psychology Program here.