A Weekend of New Experiences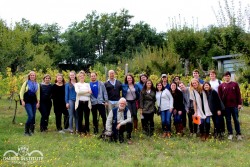 The Fall 2015 semester is well under way here at Umbra, which means that students are actively participating in various community engagement projects and field trips to solidify the concepts being presented in the classroom.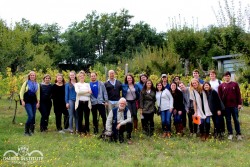 On Friday, Umbra's Business of Wine class took a day trip to Roccafiore winery to learn more about their semester project and find out what it truly means to be in the wine business. Students were taught about the process of wine making – from the grape to the labeling. They learned the significance of the Sangiovese grape, how modern wineries can support sustainable business practices, as well as how wine is perceived and presented in the global market. This trip was designed to put things in perspective for students who had been discussing winery business practices in the classroom as they prepare their Service Learning Project, a course component that requires students to analyze the winery and propose changes to its
promotional and sustainability efforts.
On Saturday, Food and Sustainability Studies Program students enjoyed a cooking class near Assisi. This class was intended to teach the origin of various ingredients and the benefits of home-cooked meals made from scratch; creating not only good food, but also healthy food. The tradition of home-cooked meals, in Italy, is an important aspect of the culture of the Italian family, one which inspires cooking with natural and fresh ingredients and preparing only what is to be consumed during a single meal.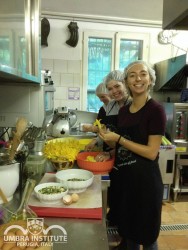 Also on Saturday, the students from the International Business Strategy course visited Pashmere, a luxury, family-owned, fashion company specializing in the production of cashmere knitwear. Students were given a tour of the factory and had the opportunity to meet the owners and ask them several questions regarding their online marketing strategy, the production process, and company traditions. The information they received will be used to complete the course's final project, through which students will analyze the strategies behind the company's international operation and formally present their finding to the company owners.