Umbra Goes to the Opera
Umbra Goes to the Opera
"Che gelida manina, se la lasci riscaldar.
Cercar che giova? Al buio non si trova.
Ma per fortuna una notte di luna,
e qui la luna l'abbiamo vicina."
–La Bohème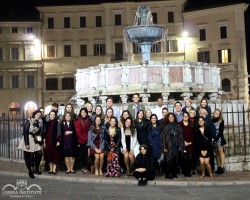 This past Tuesday evening, Umbra students and staff got all dolled up and attended the opera La Bohème at Perugia's local Teatro Morlacchi.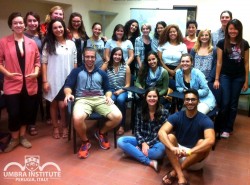 In order for students to fully enjoy and appreciate this cultural experience, Umbra first organized a lecture on opera – and La Bohème in particular  – with Professor (and singer) Antonella Valoroso.  During this class, students explored the history of the art, some background on the famous opera writer Giacomo Puccini, and the plot of La Bohème. Professor Valoroso enlightened students to the fact that Puccini's La Bohème (1896) was the inspiration for the famous modern musical Rent (1994) by Jonathan Larson and she conducted a comparison using the song "Light my candle"  between characters  Mimi and Roger in Rent with the aria "Che gelida manina" with Mimi and Rodolfo in La Bohème.
Students also had the opportunity to read the translation of the libretto, or the "little book" with the opera lyrics, ahead of time, so that they could comprehend the arias and scenes. In this way, they arrived enthusiastic and prepared for this tragic love story that takes place in Paris amongst a group of poor artist friends.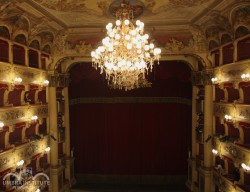 The Umbra audience enjoyed the cultural experience – which comprises the show and the people-watching   – from private opera boxes in the breathtaking and historic Morlacchi theater, which was built in 1780 and has been in use ever since. The company Lirica Sperimentale di Spoleto (which includes the boyfriend of an Umbra staff member) performed the piece beautifully under the direction of Carlo Palleschi and Giorgio Bongiovanni.  
Students Isabela Secanechia, Amanda Fraine, and Rosemary Trenholm walked away from the experience in awe of the performance and opportunity to observe the Italian audience, saying, " I didn't know the human body could do that.. they make it look easy to sing opera!"