Benvenuti al Sud!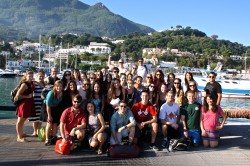 This weekend marked another run of Umbra's thrice-yearly optional trip to the south of Italy.  Accompanied by staff members Laura Fronduti and Marco Bagli, 37 Umbra students embarked on the excursion of a lifetime to Pompeii, Ischia, and Naples to soak up just a few more precious rays of summer sun.
The weekend commenc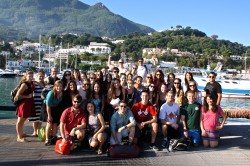 ed bright and early Friday morning with a bus ride from Perugia's bustling center to the tranquil and breathtaking ruins of Pompeii.  The group toured the site with the aid of two local guides before taking a short lunch break in the modern-day city center.
The next stop of the day was Ischia, a place whose beauty defies description.  (Let's just say it would make a fantastic desktop background – seriously, Google it.)  This floating postcard of an island was the students' home base for the duration of the weekend and from which they traveled on Saturday to glamorous Capri.
Time in Capri was spent riding Vespas, boating through the famous grotti, and swimming in Tiberius' bath, a slice of the Tyrrhenian Sea below the villa where the infamous Ancient Roman emperor whiled away his days with his notorious nephew Caligula.
Sunday was spent enjoying a guided tour of Naples on foot, followed by a lunch of arguably Italy's tastiest pizza.  After a weekend of surveying the South's greatest locales, students returned home to Perugia with memories to last well beyond the Facebook album.