Featured Blog Articles
Umbra Blog
Wine Tasting at Enone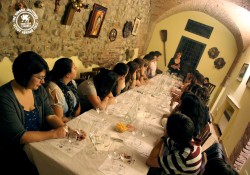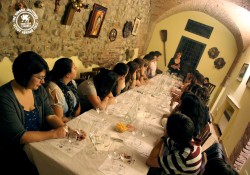 Our ever-eager and intrepid students dove nose-first last night into an integral part of Italian culture – wine tasting! Local enoteca 'Enone', located in Perugia's most ancient district, Borgo Bello, played host to the evening of sniffing, swirling, and savoring, which was masterfully guided by sommelier Silvia Bartolini. Silvia (and her adorable assistant/daughter) demystified the wine-making process from the very first grape to the very last drop in the bottle and everything in between.
Having been enlightened to the ways of glycerin content, "aged" versus simply "old," and what to really pair a hardy red with, the audience then practiced proper tasting technique. They appreciated the color, aroma, and texture, as well as taste, of three wines (a white, a red, and a dessert wine) which had been paired with appetizers chosen to balance and enhance their flavors.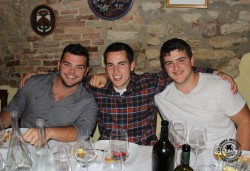 The evening concluded with students attempting a quiz decidedly less stressful than those in the classroom – matching different drinks, from whiskey to grappa, to the appropriately shaped glass.
Silvia left the group with some parting words of wisdom: "It's not, 'expensive is good, cheap is bad.'" Perhaps then the old saying should be amended – life is too short to drink bad wine. Salute!