Featured Blog Articles
Umbra Blog
In Tandem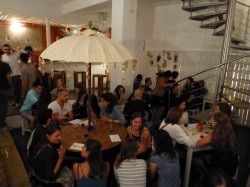 Conversation flowed freely during the fall semester's inaugural Tandem language exchange, a much-anticipated and invaluable language-learning opportunity. American Umbra students met with their eager-to-learn-English Italian university counterparts during two lively hours at local haunt Il Birraio. The relaxed, informal setting allowed students of any proficiency to improve their conversational skills in small, mixed groups of Italians and Americans.
Umbra stu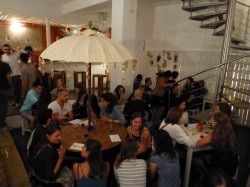 dent Sathvika R. described the atmosphere thusly: "It didn't feel like typical studying. It felt really natural, and the Italians didn't judge you. I learned so much just from one night."
Participants debated matters of international significance in both English and Italian, such as the merits and pitfalls of the Italian and American university systems; the worldwide reach of American pop culture; and the Sophie's choice of our time, peanut butter versus nutella, before heading out into the night with a newfound clutch of friends.
You've heard the best things in life are free and so Tandem will continue to offer ingresso libero (free entrance) for Umbra students learning Italian and Italians studying English. See you for the sequel, Wednesday, September 25th, 7:30 p.m. at Il Birraio!