Food & Sustainability
Umbra Blog
Breakfast Abroad. When US meets Italy… in Perugia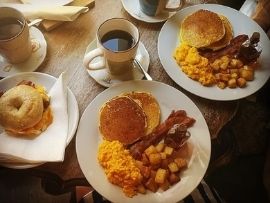 By Taylor Feehan, University of Southern Maine and Fall 2019 Umbra Rep
Italy has so much to offer.
The beautiful scenery, the culture, the kind faces that you pass by every single day, and let's not forget… the food & drink. Being in Italy for the semester has completely changed the way I view food and even how I eat.
I mean, how can you resist the smell of freshly-baked croissants stuffed with pastry cream made early that morning? The truth is… you can't.
One of My Favorite Cafe's, Mythique Cafè, located on Via dei Priori, 81 in Perugia
Croissants aren't the only tasty pastry that most cafes and patisseries have to offer. There's always an array of sweet treats – buttery-flaky tartlet shells with ricotta and dried fruits, pistachio-cremes, biscotti's and so on. If you find yourself at a hotel, or visiting an agriturismo… (highly recommended by the way) the typical Italian breakfast buffet consist of prosciutto, fresh fruits, sliced cheeses, homemade marmalades, coffee cakes, and so much more.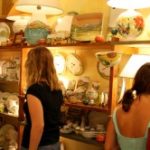 The affordability of it all makes it that much easier to indulge in these magnificent treats. You can get most of them for only one euro, and a hand-crafted cappuccino for under two euro. Italian breakfasts are almost too good to be true.
With that being said, one comes to realize that American breakfast culture has its own identity.
Pancakes, waffles, french toast, scrambled eggs, bacon, sausage, and mounds of each of them at that.
While I will never get tired of my (almost daily) Italian breakfast… I do get the occasional craving for the standard stack of flapjacks that can so easily be comendered in the United States.
When I heard word of an "American breakfast place" through other Umbra students, I knew that I had to do some exploring.
Pinturicchio Café + Kitchen, located on Via Pinturicchio, 26 in Perugia
My first visit to this place was surely one to be remembered… and you best believe I've been back. For the sake of this post, of course… (and my belly)
The Atmosphere
The atmosphere is a mix of modern and historical. The vibe of Pinturicchio is relaxed, cozy, and comfortable. The furniture is mitch-matched old chairs, couches, and tables. There are books placed all along the restaurant as they encourage learning of all sorts. They have weekly Tandem nights where students and citizens of Perugia can come together and mingle. I mean, what else is a meal for if not for coming together?
It is safe to say that Pinturicchio is a perfect mix between cafe and restaurant.
According to the website,
"Pinturicchio Café + Kitchen, a collaboration between friends from three different countries that offers a constantly evolving menu of delicious home-made dishes, American cuisine served with friendly hospitality to an international clientele."
The atmosphere of Pinturicchio Cafè is exactly that – friendly, hospitable, and welcoming to all who walk through the door. Even after they're being flooded with 10 American students in the morning after Italian class…
The menu has a comforting mix of Italian treats and American favorites. Including, but not limited to, banana pancakes, french toast, bacon, sausage gravy and biscuits, breakfast wraps, and even iced coffee… You read that correctly. Iced coffee. They even named it "American Iced Coffee." This treat is not commonly found in cafes in Italy.

My personal favorite. Sausage gravy with cheddar biscuits.
A dish that takes me across the ocean all the way back to my home in Maine, just like my grandmother makes.
One of the best things about Italy is the fresh, sustainable, and local ingredients found in restaurants and stores everywhere… one in particular is the eggs, never will you see yolks so orange. They're creamy, fresh, buttery, and oh-so delicious.
The bacon is crispy, the potatoes are hand-cut and seasoned to perfection. The pancakes are fluffy, made with sweet bananas and warming spices like cinnamon and nutmeg.
In Conclusion
Between the welcoming atmosphere, incredible food, impeccable service, and great company… Pinturicchio has a passing grade from us!
A+
Thanks for reading!
– Umbra Rep Taylor