Carnevale-themed Pizza Night a Success
Almost 100 costumed Umbra students, staff, and faculty packed La Botte Tuesday night for Umbra Pizza Night: Carnevale Edition.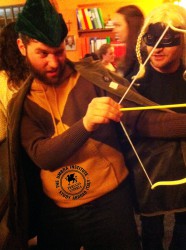 Celebrating Martedi Grasso (Mardi Gras, Fat Tuesday, etc.: the traditionally "sin-filled" day before today's start of Lent) and enjoying another Pizza Night in one fell swoop, the event was a success. Approximately one third of students arrived in costume; 100 percent of the attending staff and faculty were transformed. The pizzeria staff served Phantoms of the Opera, 1940s pin-up girls, and clowns without the blink of an eye (well, there were maybe a few raised eyebrows). 
After the last slice of pizza disappeared, Umbra voted on the best student and staff/faculty costumes. 
Unrecognizable (from the neck up), Umbra student Camilo Lopez won a pizza from Mediterranea for his rendition of a unicorn.
His bow and arrows a plastic threat to all, Umbra staff member Marco Bagli claimed the honor of best staff/faculty costume as Robin Hood.  
Mark your calendar for the next and final Umbra Pizza Night at 7:30 p.m. Tuesday, March 19, at La Botte!