Students Travel to Rome, Siena on Umbra Field Trips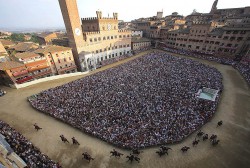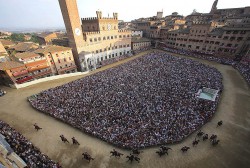 Two Umbra Institute professors took their lesson on the road this weekend.
On Friday, Giordana Pulcini's Politics and Economics of the European Union students traveled to Rome to visit the in-depth Italian history museum.
Antonella Valorosa's Contemporary Italy students visited Siena Saturday to learn about the still-active contrade (neighborhoods with strict borders and stricter cultural traditions) that participate in the annual Palio (horse race: see image) in the Campo.
Pulcini and Valorosa said the invaluable field trips allow students to see and experience the facts and ideas they learn in the classroom.