Cheese, Wine, and Clarity
We have been following the work of Bree Barton since she arrived in Perugia a few months ago, eager to immerse herself in the local culture. She shared An Adventure Awaits, reflections from her first few days in Italy, on this blog in January. Barton, shown in Venice at right, is sharing this piece she wrote for her Creative Writing course.
"Cheese has never tasted this good. Ever."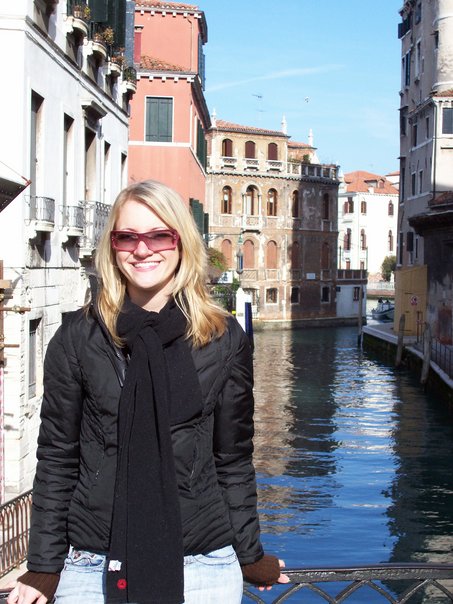 My pen grazes the crisp white page of my journal, filling me with glee. I sit by the Adriatic Sea, the salty air stinging my skin as I brave the January chill. Winter in Naples: certainly warmer than Perugia, but frosty nonetheless. Still, I bartered for my tavolo sul mare, and the breathtaking view of the bay is more than enough to warm the soul.
It's true; I've never had cheese that tasted this good. Mozzarella di bufala, one of the genuinely brilliant Italian products that make any foreigner salivate, is a thing of legend. It's argued that the cheese originated in a 12th century monastery when Monsignor Alicandri treated hungry visitors to homemade "mozza" on slabs of hearty bread. Today the cheese undergoes similar exercises in tenderness and personal care; much like a baker making bread, the 21st century cheesemaker kneads the mozzarella with his hands until he obtains a smooth, shiny paste. At the prime moment of perfection, he slices off a strand and the individual mozzarella is formed: a succulent, spherical, creamy ball of goodness that's served in its dazzling nakedness to hungry tourists, poised with fork in hand to gobble it up. With each sliver I cut for myself, my mouth is filled with the sweet taste of shepherds and grass, of buttery cream and the mellow warmth of the cheesemaker's hands. The plump mozzarella ball serenades my mouth with the rich and robust notes of the Italian south. I savor each bite, letting the cheese ferment against my tongue, my teeth, my palate, flooding my mouth with fertile flavor.
And then there's the vino, the divine touch of any Italian meal. This wine is unusually delectable, the perfect crimson counterpart to my ivory delight. Eager to eternally preserve the moment, I scribble down the wine's name in my journal: Lacryme Christi, or Christ's Tears. The monks of Mt. Vesuvius chose a fittingly religious name for their handiwork, a lush wine made from grapes grown on the fertile volcanic slopes. Perhaps this is why it's so divine. The taste of the wine is sweet, deep, rich and rosy, with a hint of roasted almonds and mimosa and cinnamon and melted blackberries. It conjures up images of cozy hearths, crackling fires, the subtle melodies of southern dialects, ebony ringlets and smooth olive skin. My mouth tingles with a smoky hue as the taste lingers, the wine flooding my body with fiery warmth. There are echoes here of those two ancient cities, buried nearby under ash and molten lava by the devastating eruption of 79 AD. As I dine under the silent shadow of Mt. Vesuvius nearly two millennia later, I'm sipping the fruits of this monster, a wine from crushed grapes, grapes infused with life from the treacherous volcanic soil, the wine a lovely byproduct of an acknowledged killer. I'm imbibing history, and tragedy, and life, the liquid dripping down my throat like boiling blood, spicy, full, profound. My mind is jolted to life; my pen scratches furiously.
Somehow, this cheese and wine is more than a dinner, more than mere food and drink for me. It's the union of physical pleasure and soulful revelry, a fusion of history and modernity, death and life. It's liberating to sit alone, contented, watching the rippling reflections of the bay, the slivers of moonshine on the water, fishing boats strewn amongst the collage of lights. And all the while I stuff my belly and luxuriate in the tastes and smells of freedom, a freedom that comes when dueling forces make peace at last, pausing to kiss with wine-stained lips. Sometimes, at rare moments, the turmoil of life subsides, even if only momentarily, and for once, just once, things make sense.
Life has never tasted this good. Ever.