Featured Blog Articles
Umbra Blog
Conquering the South of Italy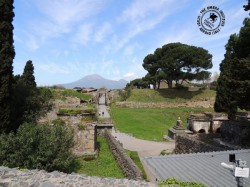 Sunhats in hand and sunscreen applied, 40 Umbra students and three staff members boarded a bus Friday morning, ready for the Optional Trip to the South of Italy.
The first stop was a guided tour of the ruins of Pompei. Led by local experts Vincenzo and Natalia, students walked through excavated villas and shivered at the bodies of the ancient Pompeiians, forever encased in lava from Mt. Vesuvius's great eruption in 79 A.D.
Next up was a visit to scenic Sorrento, a small, vibrant city along the Amalfi Coast known for its lemon groves and charming views of the Bay of Naples. 
The group unwound at Hotel Mary in the coastal town of Vico Equense, where students unpacked and ate a deluxe dinner before exploring the beach, only feet away from the hotel.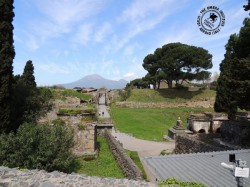 Saturday morning, the group went to the port to catch a ferry to Capri. Students took full advantage of their free day: They took boat rides around the island, swam in the Tyrrhenian Sea, took the funicular up Anacapri, enjoyed the area's typical seafood, and sipped Capri's famous lemonade. After a (slightly more sunburned) dinner at the hotel, another full day was over.
Sunday was dedicated to Naples. Two Neopolitan guides led the group on a bus and walking tour of the city, neatly wrapping up thousands of years of history, pointing out places for the most authentic margherita pizza, and warning students to watch their wallets, at once.
By Sunday evening, the group was sleepily riding the bus through the hills of Campania, Lazio, and Umbria, happy to be headed home to Perugia.