Creighton Students Learn About Food and Sustainability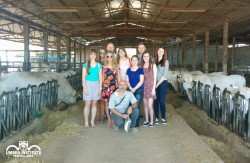 Eight students from Creighton University, accompanied by professors Maria Teresa Maenza-Vanderboegh and Gregory Bucher, are in Perugia for one week of "Food and Sustainability Studies" at the Umbra Institute. Students are studying the history and culture of food in Italy through direct involvement with producers and food experts in Perugia.
The students visited Agriturismo Le Due Torri, near Spello. Next to an agriturismo, it is also an organic and biodynamic farm.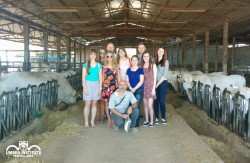 "Today was very interesting to me because I've never heard of biodynamic farming before, but I'm interested in a holistic approach to life and food. It was amazing to see the difference that it made in the barn. I've been around a lot of cattle, but the barn here smelled wonderful. I couldn't believe it, the cattle must be very healthy. The idea that farming is about life and not only machines resonated with me as well. I also find the culture of hospitality to be wonderful. It's so relaxing to just sit and chat with producers, I learned much more about people than I would have otherwise. The respect everyone has for tradition and history is ever present. It's such a different environment from the US. Perugia is also the most beautiful city I've ever seen."
– Tessa Fulmer