A Day in Torgiano: Lessons on Wine Production and Marketing at Lungarotti Winery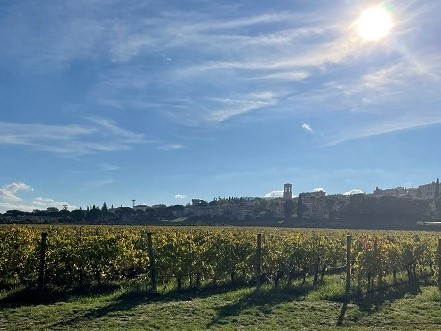 By Shreya Dhume, University of Connecticut
On November 11th, students of Digital Marketing: Wine and Wineries of Central Italy took an early morning bus to Torgiano to learn about the history behind one of Italy's most renowned wineries: Cantine Lungarotti.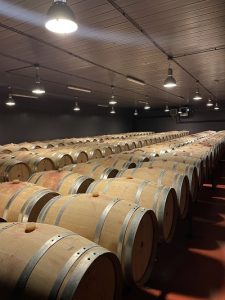 This semester, students have been exploring digital marketing principles and applying them to the Italian wine industry. We have examined different tactics marketers use to promote their products and brands, and will even be participating in a service learning project in which we create a marketing plan for Romanelli, a winery we visited in September. Students were pleased to find that Lungarotti provided an opportunity to delve further into these marketing concepts.
First, we received some insight into the winery's origins. Lungarotti is a local, family-owned winery that was founded in 1962 by Giorgio Lungarotti. The company prides itself on its commitment to quality production, sustainability, and family values.
 Students were led inside the winery to see the different stages of the winemaking process. The first room contained tall steel tanks where the wine fermented, and in another room, we saw different size barrels where the wine was kept for aging. There also was a cellar where bottles of wine were tucked away for yeast fermentation. The most notable part about our tour was that, beyond seeing the steps of wine production, we also witnessed packaging and labeling–student Emily Simeone said this was her favorite part about the visit.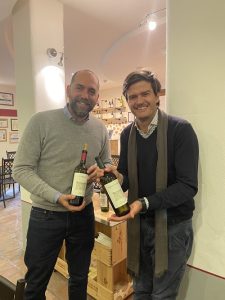 Next, students heard from Francesco Zaganelli, export director for Lungarotti. Francesco elaborated on the company's consumer markets: Lungarotti has been able to penetrate new worldwide markets in the last few years, including the United States, Germany, Sweden, Thailand, and Canada. Professor Jacopo Cossater especially wanted students to see "how a winery manages to sell wine in the United States" and how "every state is different," which leads to a dynamic marketing strategy. Seeing these ideas come together with a real wine company was truly eye-opening.
And of course, we ended the day with a wine tasting!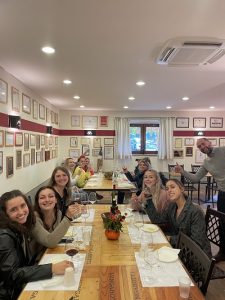 Students tried the Torre di Giano white wine and classic Rubesco red wine. The white was "crisp, refreshing, and just sweet enough," said fellow student Maddie Culkin. Brendan Fricke felt that the red had "many spices and tasted lighter than other red wines."
Our day at Cantine Lungarotti was enlightening, as we saw classroom concepts come alive in an esteemed Umbrian winery. It was a fun day filled with touring, teaching, and tasting!
Click here to learn more about Cantine Lungarotti: https://lungarotti.it/ita/