Best Spots to Eat on a Budget in Perugia: Lexi's Selection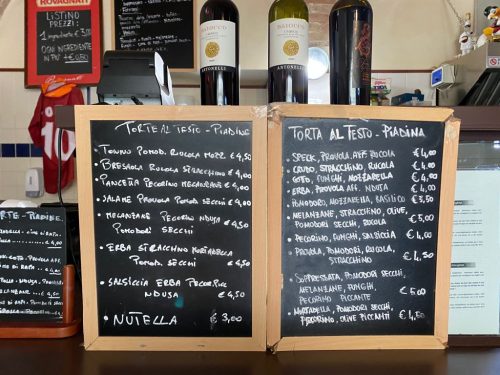 By Umbra Rep Lexi De Marinis, University of Richmond
Looking for a quick lunch between classes, or maybe a spot for a nicer local dinner? Here are my favorite places to eat in Perugia for every occasion.
Sandwich: Piada e Delizie
Address: Piazza Francesco Morlacchi, 5
This sandwich place is right around the corner from school, and they make quality and inexpensive (4-5 euro) torta al testo, a typical Perugian focaccia cooked on a cast iron plate. You can either make your own sandwich or choose from the extensive list of combos they have on their menu. They make the sandwich right in front of you and include an olive oil drizzle and sea salt on the torta al testo. I like to make my own with Prosciutto, Arugula, Burrata, and Tomatoes.
Pizza: Pizzeria Mediterranea 
Address: Piazza Piccinino, 11
Pizzeria Mediterranea is close to school and my personal favorite pizza in Perugia. Each pizza is 4-7 euro so it's also a great deal! I recommend La Pizza Lasagna. It is a delicious and unique pizza topped tomato sauce, mozzarella, spicy meat, and Ricotta. The Pizza Margherita with Bufala is also amazing!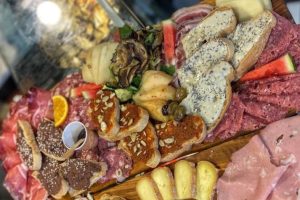 Charcuterie: La Prosciutteria 
Address: Piazza Giacomo Matteotti, 44
La Prosciutteria is a unique place in Perugia with GIANT charcuterie boards. I particularly like this place because you tell them how many people you have and if you want a small, large, or gourmet board and they put together a board with cheese, meat, fruit, veggies, toasts, and more. They also have options for sandwiches and salads. The atmosphere is lively, and it is a good price. A small board is 5 euro per person, a large 10, and a gourmet 15. The large board comes with plenty of food for a whole meal.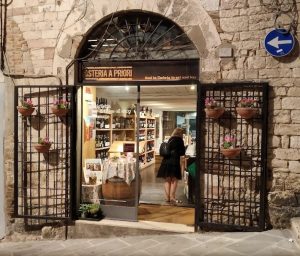 Traditional Osteria: Osteria a Priori 
Address: Via dei Priori, 39 
Osteria a Priori is the place to go for a nicer, traditional meal. Everything I have eaten there has been delicious and given the quality, the prices are decent. They have seasonal menus that rotate often with whatever is locally available at the time. A few of their dishes are: roasted vegetables with goat cheese (8 euro), lentil soup (8 euro), pumpkin ravioli (9 euro), and a traditional beef dish with vegetables (13 euro). This is a must go place during your time in Perugia!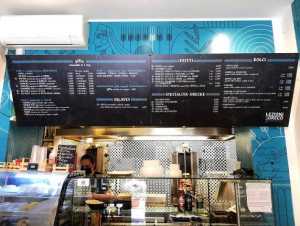 Non-Italian: Lezioni Di Greco Corner
Address: Piazza Francesco Morlacchi, 11
This is a great Greek place right around the corner from school. You can make your own pita choosing your protein, toppings, and sauce. My personal favorite is the pumpkin (zucca) keftedes in a pita with hummus, tzatziki, olives, tomatoes, cucumbers, and feta. This whole meal only costs 4.50 euro! I love to go here when I need a break from pizza, pasta, and cooking at home.
Gelato: Mastro Cianuri 
Address: Piazza Giacomo Matteotti 17
At first glance you would not even know that Mastro Cianuri has gelato, but it is the best in Perugia. My personal favorite is their chocolate gelato. A small cone with two toppings is 2 euro, a large 3. They also have small chocolates, coffee, pastries, and a caffe menu.