Everything from Opera to Rap Workshop- Improving your Italian Pronunciation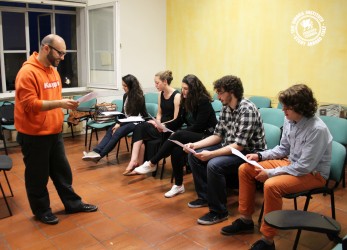 What do famous opera composer Verdi and modern Italian singer Jovanotti have in common? They've both been featured in the "From Opera to Rap" choir workshop, which began this semester at Umbra!
The brainchild of professor Antonella Valoroso, the workshop is held bi-monthly in the evening. Prior music experience or Italian proficiency are not required; students who like having fun and who enjoy music are more than welcome to join. This semester a handful of interested Umbra students, including two music majors and an Italian student from the University of Perugia, made up this informal choir.
Each session a new song in a different musical style is introduced, giving a full picture of the history and extensiveness of Italian music. Guided line-by-line through the song by charismatic instructor Sergio, the students listen to the pronunciation of the words and repeating them back. After they've practiced the lines, they get to the fun part of performing the song together. Besides providing a way to express their love for music, many of the students have said that the workshop has helped them improve their Italian pronunciation! 
The last workshop of the semester ended with the "Serenata Rap" by Jovanotti: a quick-paced rap full of romantic rhymes and tricky phrases. Quite a challenge for the students to take on – but they succeeded admirably and finished the semester on a high note!