Featured Blog Articles
Umbra Blog
Fall 2013 Semester is Underway!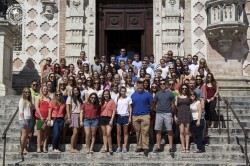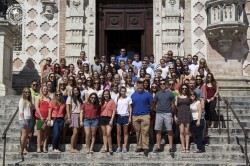 After enduring (sometimes several) long-haul flights and a bus ride through the Umbrian countryside, the Umbra Institute's Fall 2013 students have arrived! Perugia's new foreign contingent was eagerly welcomed to the "green heart of Italy" with a night at the Hotel Gio' and a traditional Umbrian meal. Students then made themselves at home in their apartments in the city's historical center while getting acquainted with one another.
The semester kick-off weekend continued with a practical walking tour of essential locales: everything from pharmacies to supermarkets to the best place to sample the iconic aperitivo. Orientation capped off with a two-day open house, health and safety meeting, and group pizza night at local spot Merlin's.
Next up for Fall 2013 is Intens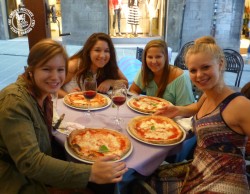 ive Italian Week, when students will be immersed daily in Italian language study while familiarizing themselves with their new surroundings. We wish them all the best as they learn to navigate the ins and outs of Perugia's ancient roads, cappucini versus espressi, and of course how to properly live la dolce vita.  In bocca al lupo!