Arcadia Orientation Day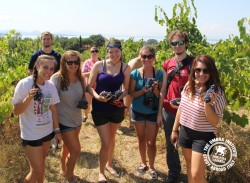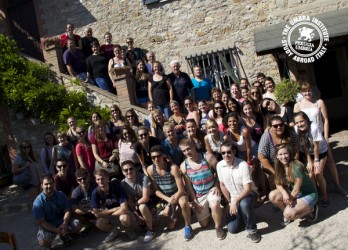 This weekend Umbra's Arcadia University students participated in an orientation day with Arcadia's Italian Resident Director. The day was far from ordinary, allowing for open student dialogue and a chance to see the daily life of a rural farmer at a local Agriturismo.
The gracious hosts were the Orsini Family of the Orsini Agriturismo in Massa Martana, who greeted students with a traditional farmer's breakfast of sweet bread and white bread drizzled with olive oil (made right on the farm).  Following breakfast, students sat in on their orientation event which consisted of discussion on being a global citizen and the significance of being an American student abroad.  Dialogue included reflections on student's decisions to study abroad, their selection of Italy and Perugia as the destination and the responsibility of these decisions.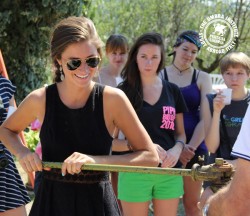 Students were then taken out to the vineyards to experience a grape harvest. Blue skies and sunshine enhanced the experience as participants collected tubs of the ripe fruit. A demonstration on various pressing techniques followed, showing the methods that traditional winemakers use to release the juices and start the fermentation process. The demonstration also included grape stomping, allowing students to try their hand (or foot in this case) at the process.
The day ended with a traditional four course meal prepared by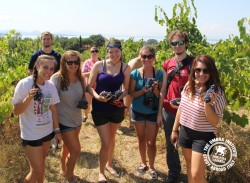 members of the Orsini family, complete with bruschetta, homemade pasta, a pork dish, poor man's dessert and a glass of red wine crafted by last fall's Umbra Arcadia students.  It was a wonderful day thanks to the beautiful weather and the wonderful hosts!