Gamification: The Art of Learning through Play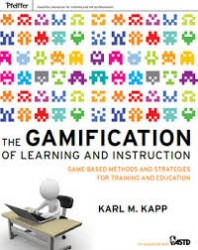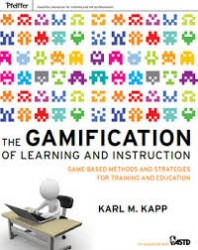 The Umbra Institute is now experimenting with aspects of gamification, a practice that puts into play the strongest element of Umbra's education philosophy: immersive community engagement.
Gamification of learning is a powerful education tool that implements a "game-style" atmosphere, to motivate students to learn and maximize enjoyment and engagement; Umbra's approach adds to this the focus on community engagement requiring students to critically observe and re-think Italian culture while interacting with locals. The concept was first introduced into Umbra curriculum through the SoloItaliano Challenge, a two-day competition during which students make a pledge to speak only in Italian at home, at Umbra, and around Perugia. Now,  elements of gamification are being slowly introduced at various levels of the Italian language learning process and was recently used by Professor Christian Tarchi during Umbra's PYHD 430: Human Development in Culture course.
Prof. Tarchi's Human Development course recently had a lecture on dimensionalizing cultures through Hofstede's dimensions of national cultures (a way of measuring a culture's tolerance for power distance, uncertainty avoidance, masculinity/femininity, individualism/collectivism, and short/long-term orientation). After the lesson, students were then tasked to solidify their understanding of these concepts by participating in a gamified activity in which they explored the cultural relativity of common locations that resemble one another across cultures, such as a library or a shopping center.
The gamification process began when Professor Tarchi provided students with a list of activities, each worth an assigned number of points. Students had to score 10 points in order to complete the activity, though every participant far exceeded the 10 point requirement. Points could be gained by:
Working alone or working in a group
Visiting a location such as the University of Perugia, the local library, or a small shop; or the local bookstore or supermarket
Answering questions about the location based on personal observation or by asking an Italian for the answers Finding examples of the Hofstede model elements and providing evidence of each example)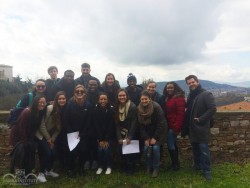 One of the students who participated in the activity, Brenna Riordan, said that she was nervous at first, but the drive of the competition pushed her out of her comfort zone to work individually and visit locations worth the highest number of points, including the University of Perugia. "This experience, in general, has helped me to really look at a culture and evaluate it without making my own judgements, just to see where people are coming from and why things are the way they are," said Brenna as she described her view of the gamification activity. She also mentioned how she was surprised by the contrast between the University of Perugia and her own university, the University of Buffalo; a comparison she would not have been able to make if it had not been for this innovative learning tool.
In the end, students were able to take the time to engage in the culturally rich locations in Perugia and explore their significance in society.
To learn more about this and other courses offered at the Umbra Institute, search our full list of General Studies electives by clicking here.