The Italian President Visits Perugia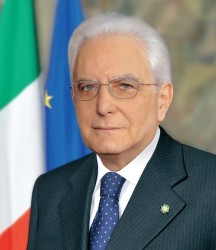 Italian President Sergio Mattarella Photo from quirinale.it
Today, Italy's President of the Republic and Head of State, Sergio Mattarella, will be visiting Perugia for the first time since his election into office, at the beginning of 2015. His brief tour of the city will start at 11 AM on Corso Garibaldi, bring him to the Chianelli Residence, and to a children's home. He will be accompanied by the House Vice President, Marina Sereni, and the Minister of Cultural Affairs, Dario Franceschini.
While on Corso Garibaldi, he will attend an inauguration ceremony for tomorrow's opening of the Police [Carabinieri] Center for the Protection of Cultural Heritage, in memory of Colonel Valerio Gildoni.
At the Chianelli Residence, the President will meet with children who suffer from cancer, and their families, starting at around noon today. The Mayor of Perugia and the President of the Region of Umbria will also be present.
The visit will end in a children's home to which the president has previously donated in support of the Creo Research Project, relative to cancer studies.
To read more about the President and other symbols of Italian Government, in English, click here.
To read about the President's visit, in Italian, click here.