Reminiscing on a Spring Semester in Perugia, Italy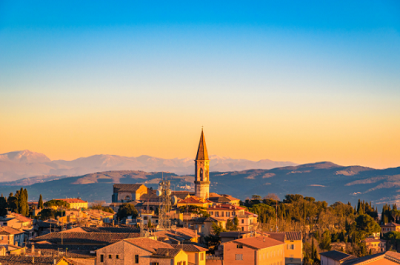 As we're nearly halfway through our Spring 2022 semester, one of our team members took a moment to both reminisce and reflect on some of their favorite things about a spring semester in Perugia.
---
As the spring semester begins, Perugia feels as though it has just woken up from a long nap. You see, between semesters, Italians enjoy feast after feast with friends and family as they celebrate the winter holidays. You may think that these indulgences end with the New Year's Eve fireworks that you can see across the valley from various hilltop views across Perugia. However, the merriment continues until January 6th. Naturally, after weeks of eating just a little too much, the city lulls into a drizzly naptime.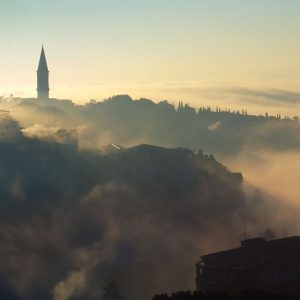 Italian students study for their final exams to conclude their fall semester while international students arrive at the Umbra Institute and begin to stretch their legs, peaking down sideroads as they discover their new home. In the winter months, mornings start with a blanket of fog that wraps around the city, filling the valley below. Wandering down side streets or to the end of Corso Vannucci, one can glimpse that 40 degree (Fahrenheit!) blanket of white and feel like they're living in a magical city in the clouds.
Some restaurants close for a couple of weeks in January to relax after a busy winter season but that doesn't mean that the city doesn't smell like Italy. As you take a walk down Via dei Priori or up Corso Garibaldi at lunchtime, you'll smell all sorts of delectable dishes. It's fun to take that walk with a local as they can often identify each dish by its smell. Fish or meat? Tomato sauce or cream? Soup or pasta? I'd argue that the best smells are on Sundays: polpette or a big pot of ragu!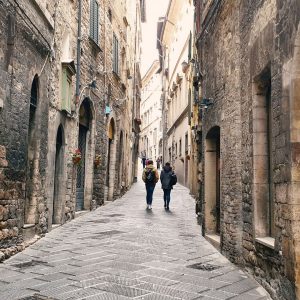 As the weather warms, the skies clear and the sunsets become a spectacle. The city comes to life with people taking their early evening passeggiata so that they can sit at the benches of the Giardini Carducci in awe of the violent shades of red, orange, and pink that explode across the sky. A panorama of light that can be embraced but not captured. Turn left toward the view of San Domenico church and to the left of its tower you'll see Assisi turn pink and purple as it reflects sunbeams slowly disappearing behind the hills.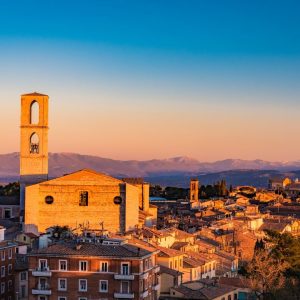 Though the sun has gone to rest, Perugia does not. Streets fill with Perugini in search of fresh air and friends along the main thoroughfare. Stopping to rest on the steps of Piazza IV Novembre, also known as Perugia's beach, is a great way to take in all the life that Italians bring to their evening walks! Don't be surprised if midnight creeps close and small children are still toddling about, using the day's last spurt of energy. The fountain becomes a meeting place and sometimes you'll hear the swoon of violins echoing off the Duomo when the doors to Palazzo dei Priori open for a well-dressed music aficionado to wander down the steps and take in a cigarette.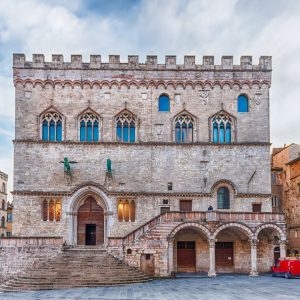 As Easter approaches, you'll begin to see why Perugia has a reputation as the city of chocolate, home to the Perugina chocolate factory. Decades ago, its founder, Luisa Spagnoli (a woman with a love for innovation and a heart for social impact), created Italy's famous chocolate Easter egg. A massive egg as big as one's head that is hollow and hides a surprise! These are often fun games for kids to find when they break their egg but you can find various shops around the city that will let you put your own special gift inside! In some shops, the eggs are so elaborately decorated that it almost hurts to break their delicate shell!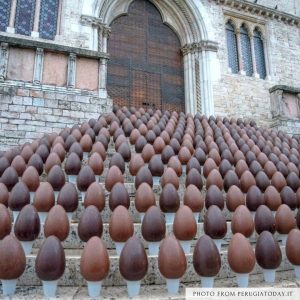 Early in April, the city booms to life, becoming a hub for journalism professionals who flock to Perugia for the International Journalism Festival. Free events take place throughout the city and are offered in English to appeal to the international audience. Writers and investigative journalists from the BBC, Al Jazeera, NPR, La Lista, Corriere della Sera, and more fill Perugia's pizzerias. If you study communication, journalism, or political science, Perugia is THE place to be during this festival! Ask a good question during a panel, and at the end, you might get a yes when you offer to show the panelists your favorite hidden restaurant in the city in exchange for an informal informational interview.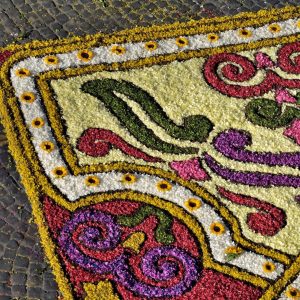 As the semester concludes, you catch a glimpse of what's to come over the summer. The sun beats down and you shed your winter layers. You hear about May's flower festivals, June's medieval 1416 festival, and July's Umbria Jazz and you start to consider whether or not one semester was long enough…