Volunteering while Studying Abroad: Umbra and Solidarity Purchasing Group Sign Agreement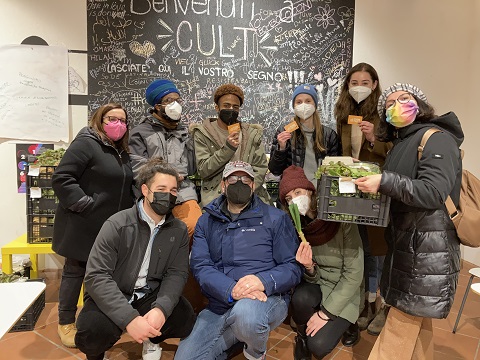 Last February, the Umbra Institute signed an agreement with Fuori di Zucca, (whose literal translation in English is "Out of Pumpkin" but whose meaning in Italian is "crazy"), a volunteering association that manages a Solidarity Purchasing Group. Their aim is creating a small community that would buy fresh food (i.e., vegetables, fruit, cheese, etc.) in a conscious and alternative way.The purchase of local produces takes place according to the principle of solidarity, which leads them to prefer small and local producers, respectful of the environment and people, with whom they have established a direct and stable relationship.
Thanks to the agreement, Umbra students can take part to the activities of this association and immerse themselves in a lively community of local food producers and consumers. Spring semester students have seized this opportunity and are volunteering in the weekly shopping and food distribution which is held every Wednesday. Students became active members of the Association, and they were provided with a membership card, with which they can buy local food.
In addition to sustaining local farmers, Fuori di Zucca has also launched an initiative through which the complete weekly shopping (vegetables, eggs, bread, pasta, cheeses, legumes) is guaranteed to five families in need of support residing in the neighborhood where Fuori di Zucca meets. This initiative is supported by the members of the association (with small donations), from producers (who charge half price for the products of the shopping for these families), and from others fundraising activities.
The Umbra Institute is happy to be part of this meaningful project and is looking forward to strengthen its ties with Fuori di Zucca "Crazy" association!