SBU Students Get VIP Access to Vatican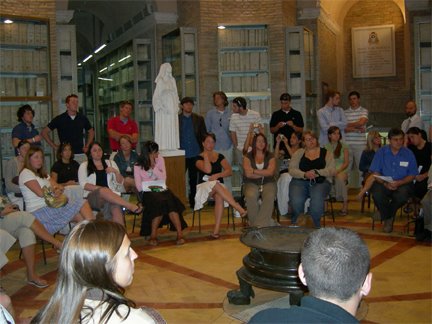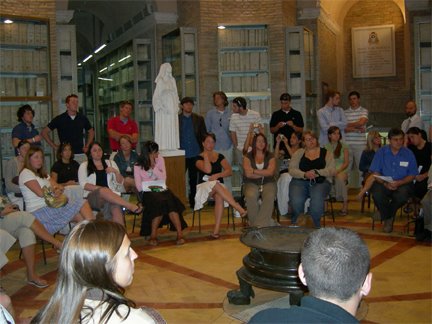 The Summer Session ended several months ago, but with the intensive pace of the 5-week program and the excitement surrounding Italy's World Cup victory, we neglected to share one of the best stories of the year.
Nearly every student who attends the Umbra Institute travels to Rome at least once – and first on their list of hot spots is to see the famous Saint Peter's Cathedral in Vatican City. This summer, however, students from St. Bonaventure University were led by one of their faculty advisors, Father James Vacco, on a tour of the Vatican our students – and many tourists – rarely see.
On the trip, students met with a Vatican Cardinal and Bishop, were provided with a V.I.P. tour of the Vatican, and were permitted access to exclusive areas of the cathedral. Students were also admitted to enter the confidential Archives Room in the Vatican Archives (made somewhat famous recently by Dan Brown's bestseller, Angels and Demons).


The highlight of the tour was visiting an underground district of mausoleums from before and during Jesus' time. This district is the foundation of Vatican City. It was here where students were able to see Saint Peter's actual tomb and his excavated bones.
Speaking of both her experience at the Vatican and studying at Umbra, SBU student Ashley Jankowski said, "This experience is something I will remember for the rest of my life. It allowed me to grow in such a positive way. I've learned that I am more independent that I ever thought I could be."
Students typically take 3 or 6 credits in the 5-week summer session. To learn more about summer programs and fall/spring semester programs at Umbra, visit the website: www.umbra.org.
In photos: SBU students meet with Vatican officials within the Archives; one SBU student greets Vatican Cardinal Marchisanom the Archpriest of St. Peter's Basilica; SBU professor Father James Vacco.