Searching for Italian Diamonds: The Truffle Hunt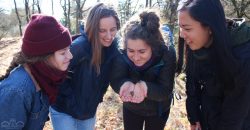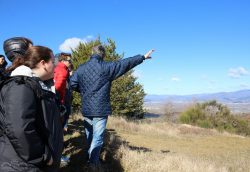 The truffle hunt begins in full view of the countryside below
Last weekend, students in HSIT 350: The History and Culture of Food in Italy course went into the Umbrian hills in search of truffles at Matteo Bartolini's agriturismo and truffle school, Ca'Solare, near Città di Castello.
Before the hunt, Matteo gave a presentation that covered the history, techniques, and peculiarities of truffle hunting. Though there are thirty different truffle species, Matteo focused primarily on the varieties that can be found on his property. He explained the economic difficulties and benefits of being a truffle hunter, as some days may lead to the discovery of a truffle worth over a thousand euros, and other days can lead to none at all. He also described how pigs were once used to hunt truffles but have since gone out of style due to their habit of eating the truffles or destroying the plant's roots. Now truffle hunters rely on the importance of a skilled truffle-hunting dog, as dogs of any species can be trained to sniff out truffles.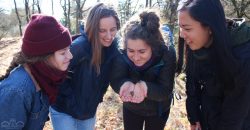 Matteo has worked with the University of Perugia's agronomy school and explained how he has contributed to the understanding of the cultivation of truffles. As of now, it is difficult to understand the life cycle of truffles due to their underground location and the fact that they can be discovered only by an animal's keen sense of smell, for the brief period when it is fully mature. Once a truffle is no longer perfectly ripe for consumption, it can no longer be found underground. Studies are currently being conducted to understand a truffle's full lifecycle and optimal cultivation environment.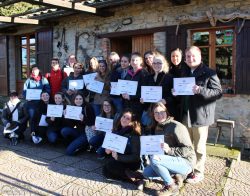 After a lecture about what makes a truffle so unique and sought after that it can be referred to as an "Italian diamond", students were invited to walk the woods on the hunt for truffles with Matteo and his father. Throughout the hunt, Matteo pointed out unique characteristics of a good truffle hunt, such as how truffles can often be found where grass is patchy, as they consume minerals that the grass would require to grow. The class excitedly asked detailed questions as they trudged up and down the Umbrian countryside, ending with a discussion about how to preserve and prepare both white and black truffles.
After a successful hunt that lead to the discovery of various truffle species, a hungry class made their way back to Ca'Solare for lunch. The first few dishes were delicately laced with truffle sauces and creams and dessert was a homemade tiramisu.
Matteo currently works to lobby the European Agricultural Commission for sustainable agricultural reform, primarily in the organic sector. This topic intrigued a number of students and lead to an extended discussion on sustainable agriculture after lunch.
Click here to read more about the Food & Sustainability Studies Program and its many hands-on learning experiences.