Students Discover Finer Side of Wine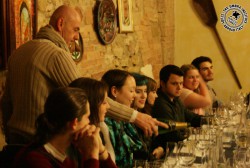 Wednesday evening, a group of Umbra Institute students boned up on their dinner party conversation at a wine tasting at Énonè, a favorite Perugian enoteca.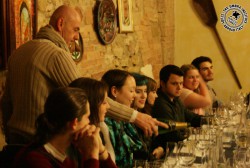 With the guidance of longtime sommelier Silvia Bartolini, the students learned to analyze wine based on visual, olfactory, and gustatory cues. Employing the initial swirl, sniff, and sip test, students paired a red, white, and dessert wine with a corresponding appetizer.
After noting the important descriptors on the wine bottle label determining vintage, alcohol content, and quality, Bartolini showed students the appropriate glass for each drink, from water to wine to whiskey.
When the official wine tasting was over, students chatted with Bartolini, scribbling her recommendations for favorite nearby Umbra vineyards (see your student handbook for the same recommendations!).
Finally, the group climbed back up the winding steps of San'Ercolano, ready to sip their way to impress.