SoloItaliano Challenge: A Microcosm of Immersion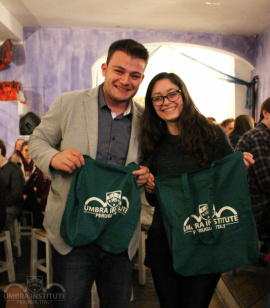 Elizabeth Schasel believes that "being able to speak Italian has without a doubt been the most rewarding part about being abroad in Italy." Not surprisingly, she was one of the winners of this semester's SoloItaliano Challenge!  
Schasel is a University of Texas-Austin student currently enrolled in the 210 level of Italian at The Umbra Institute. She describes the challenge of speaking Italian  – not only during the SoloItaliano Challenge, but throughout the semester  – "almost like every day is a puzzle that you can choose to try to solve."
The Umbra Institute encourages students to solve this particular puzzle of intercultural communication with the SoloItaliano Challenge. This semester, the challenge took place this week – March 22nd and 23rd.  Those who chose to participate swore a solemn oath on Dante's head to speak only in Italian and then donned a SoloItaliano bracelet. Throughout the next two days, participants were offered a chance to experience true linguistic immersion by attending an Italian movie night with local Italian students and a Tandem language exchange. The entire event was based on honor; even the winners were nominated anonymously by peers. This year, out of the 70 participants, Elizabeth Schasel and John Cortese earned this distinction.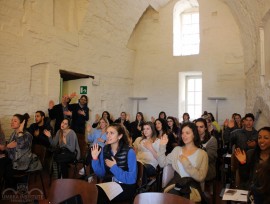 Umbra's SoloItaliano initiative encourages students to use their newly cultivated Italian skills and to reflect on their experience as foreigners in Italy. Students who enjoy this opportunity find themselves learning to put in more of a "collective effort" during the semester and to foster their own "willingness to try to speak with locals" – all great lessons learned during study abroad!