Spring 2014 Semester is Underway!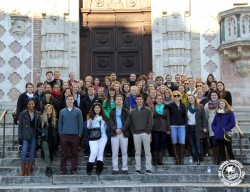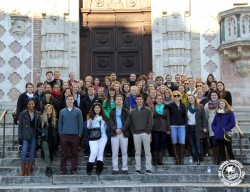 The inaugural days of Umbra's Spring 2014 semester may have gotten off to a drizzly start; however, the gloom has finally given way to several days of glorious sunshine and clear skies – the perfect backdrop for exploring Perugia's seemingly endless winding streets, tiny cafes, and traditional restaurants.
Perugia's newest international transplants spent the weekend moving into their apartments, getting acquainted, and discovering the joys of Italian coffee. The first day of the semester was marked by Epiphany celebrations (church bells and vintage cars), as well as an introduction to Umbra staff, faculty, and buildings, followed by a safety talk by a Lieutenant of the Italian State Police. A two-day Welcome Open House featured a practical tour of Perugia's supermarkets, post offices, and major landmarks, which students will undoubtedly come to know like the backs of their hands.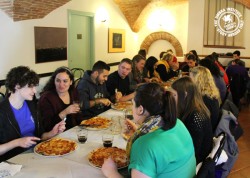 Today marks the beginning of Intensive Italian Week, a five-day "survival Italian" crash course. Up next? A leisurely lunch with Umbra staff for non-Arcadia students, and an Arcadia participant orientation at a local Agriturismo on Saturday. On Sunday staff members Gina and Cat will lead an optional "Nooks and Crannies" walking tour of Perugia and its strange, wonderful lore. Stay tuned!