Students Discover Wine Therapy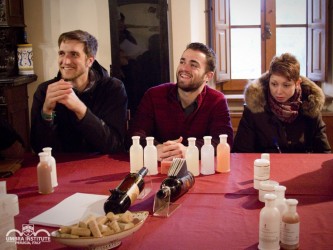 This week, BSEU 390: Business in Europe: Environment & Practices students took a trip to the local Cantina Goretti to meet their client for this semester's marketing project. Sara and Giulia Goretti, fourth generation sisters of the Goretti family, gave the students a tour of the cantina and provided them with a tasting of excellent wines from their local vineyards.
However, the highlight of the excursion was when the students sat down in an exquisitely decorated room in the old stone tower to discuss the marketing of the Goretti's most recent venture: their Winetherapy line. What started as a family hobby of using natural ingredients filled with the antioxidants found in the grapes of their vineyards has taken off as a line that is now sold in the U.S.  The Goretti sisters and the Umbra students will collaborate this semester to improve marketing strategies of the body and shower products to the U.S. market.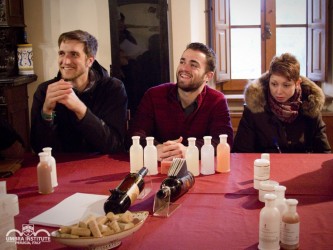 Student Ryan Messinger commented on how the visit to the winery encompassed both "old traditions and new prospects" revealed in the juxtaposition of the examples of  "the old tower and the modern wine silos."
He finds the Winetherapy line an "interesting and exciting idea that has a lot of potential in today's organic-conscious society." The class will continue to work with the Goretti family throughout the semester on this project.