Umbra's Student Chorus Takes on Everything From Opera to Rap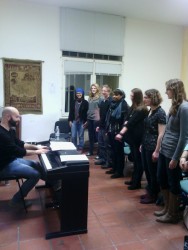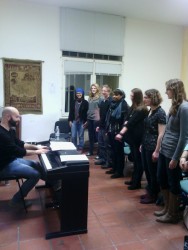 On Tuesday night, Umbra held its first choral workshop of the semester! Students were led through the Italian national anthem, "Fratelli d'Italia" ("Brothers of Italy") by choral instructor, Maestro Sergio Briziarelli.
Maestro Brinziarelli is a professional singer as well as a choral and orchestra conductor. He graduated from the Perugian music school, Conservatorio Morlacchi, and studied post-graduation at the Giuseppe Verdi Music School in both Milan and Viena. He is a music instructor at several schools throughout Umbria, in addition to leading Umbra's choral workshop.
Students will explore a variety of genres throughout the semester, including pop, opera, renaissance, and rap. To cover such an array of music, each workshop will focus on a different song and time period.
The choral workshops are a great opportunity to have fun, practice Italian pronunciation, and learn a little something about the history of music. Each workshop stands alone so students can come to one or as many as they want.