Students End their Study Abroad Experience with Community Engagement Presentations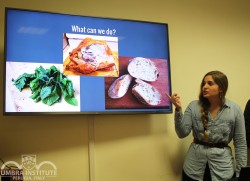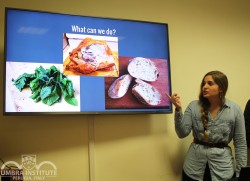 This afternoon, thirteen courses with Community Engagement components provided conference-style presentations to allow students to reflect on what they have learned during their study abroad experience and to share their new knowledge with the rest of the Umbra community. Some of these courses included Integrated Marketing Communication, Contemporary Italy, Sustainability of Food, and the Fair Trade Seminar and Practicum. Each presentation lasted for no more than fifteen minutes and drew attention to the key concepts taken from each course.
Each Community Engagement activity at Umbra presents a new and diverse perspective of Italian culture. For example, the Integrated Marketing Communication course presented their work with Sara and Giulia Goretti, founders of WineTherapy. For their project, they analyzed and researched WineTherapy competitors and provided a full SWOT analysis before setting to work to develop an integrated marketing strategy to meet WineTherapy's goals of appealing to youth and reaching international recognition. All the while, Sustainability of Food students studied the sociopolitical popularity of the sustainability "trend" and learned how to turn the popular trend into a reality for people from all walks of life. Sustainability students worked with local Italian students to present the practical reality of sustainable food culture and presented their findings, based on the Italian perspective blended with their own.
Other students presented their work with local Italian families, the organizational behavior of an up and coming Truffle business, a chocolate museum and fair trade bottega, and more.
The event's winning presentation was that of the Community Based Research in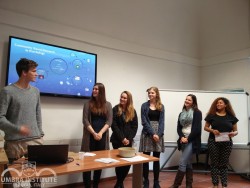 Psychology students. Students analyzed different Umbra initiatives such as the RepEAT Box project and the SoloItaliano Challenge. Students then used the information they collected to offer their understanding and insight relative to psychological behavior and habits, all with the goal of improving practicality of each initiative and to encourage that they be maintained in the Perugian community.
To read more about Umbra's many Community Engagement Initiatives, click here.