Summer Begins in Perugia Italy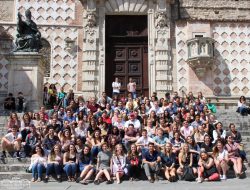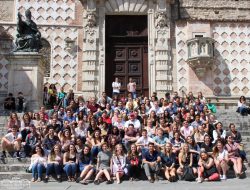 This summer's Umbra students began their study abroad experience this Saturday as they arrived in Perugia, Italy. Students were welcomed by Umbra staff with a multi-course dinner, followed by the Umbra Mingle, an event filled with ice-breaker games and activities.
Umbra Summer 2017 students, on Sunday morning, were then brought to their new homes in Perugia's city center. Many fell in love with the beautiful views from their apartment windows, some looking over the central plaza, others looking over the valley toward Assisi or other locations. They were then given a tour of the city, through which they learned some of Perugia's history, as well as where to get a good gelato or buy groceries.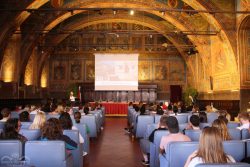 Sunday afternoon was spent in the Sala dei Notari where students listened to an Italian police officer share safety advice; were informed of academic policy by Academic Director, Francesco Burzacca; and received additional information about things such as travel, buying books, and changing classes.
This morning, both General Studies and Intensive Italian through Culture students found their way to the institute to begin their classes.
Follow the Umbra Institute on Facebook or Instagram for updates throughout the semester.