The Umbra Institute Assists in the Restauration of a Local Landmark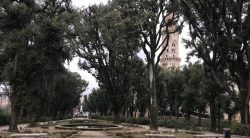 Yesterday afternoon, Umbra's Academic Director, Francesco Burzacca, and Assistant Director of Community Engagement, Julie Falk, attended the signing ceremony that established the protocol for collaborators who will be involved in the restauration of the Frontone Gardens of Perugia.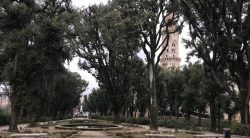 The Frontone Gardens
The Frontone Gardens:
The Frontone Gardens are located in the Borgo XX Giugno district of Perugia, and are rich in historical and cultural significance. The gardens, one of Perugia's most lively green spaces, are a large symmetrical park containing a series of symbolic statues and fountains that have become weathered over time.
The Frontone Gardens are known by Umbra students for being the ideal location for events such as: the Food Truck Festival, the Vintage Festival, Pride Festival, outdoor summer film screenings, screenings of World Cup and Champion's League soccer matches, etc. It is common to see locals walk their dogs or take a jog through the gardens, and to see students studying on the benches during a warm spring day.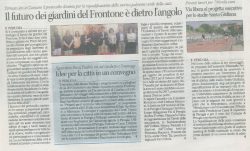 The Project:
The restauration project will be completed in collaboration with: the Comune di Perugia (Perugia's local government and Mayor's office), l'Archivio di Stato di Perugia (Perugia's State Archive), FAI (the Italian Environmental Fund, an institution dedicated to the restauration of monuments and historical public spaces), the University of Perugia and its Agricultural Department, as well as a number of local neighborhood associations.
The project is to be completed according to the principles of inclusive participation of local communities in the design of public spaces, a philosophy embraced by Umbra course ESUS 310: Placemaking: Creating Sustainable Urban Spaces and Communities. Students will be significant collaborators in the restauration process, as a part of their service-learning activities for the course.
---