Perugia
Study Abroad
Travel
Umbra Reps
14 things that surprised me about Perugia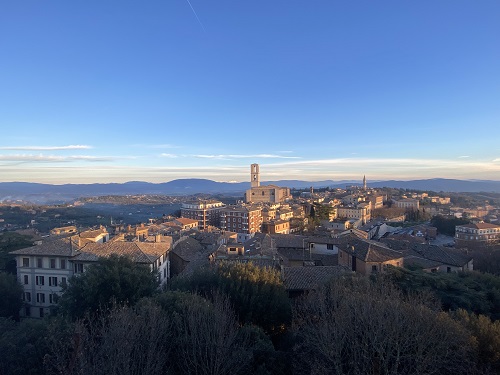 By Jessica Morgan, Binghamton University
Living in a new country always has an adjustment period. There are certain things that we get used to living in one place, and it's natural to be surprised when adjusting to a new culture. Studying abroad is no exception! As a current student studying at the Umbra Institute, I have learned a few new things about living abroad in Perugia, Italy. If you're anything like me, you have probably researched the program, city, and "top things you need to know about studying abroad". However, there are little things that I've noticed that took me by surprise. So, to help clear the way for future students and curious friends and family, I came up with a list of top things that surprised me about studying in Perugia.
1. Big grocery stores are swapped out for small markets
In the US, it's normal to head to a huge grocery store every week or two to get a cart full of groceries, brought back in your car. Well, things work differently in Perugia. Living in the city center, the stores are very small and localized. It's more normal to stop in to grab what you need for dinner that night or for a few days. This is preferred especially due to the size of the store, and because you will be carrying it by foot!
2. Winter in Perugia still exists!
Now, I know we all may have a concept of Italy as being quite warm and Mediterranean. Although this isn't false, it's important to know that it also gets to be cold in the winter. This is important to know when you are packing because you will need your layers! Also, the temperatures of apartments and buildings in Italy are kept lower due to laws tackling climate change, so they tend to reflect the temperature outside more.
3. You will be getting in your steps
Perugia has a very nice city center that looks out to the Umbrian countryside. However, like many other towns in the area, it was built on a hill that has lots of stairs and roads going up and down. It makes for a great view and beautiful walking paths, but be ready to take on some steps, and a good pair of sneakers is essential!
4. Perugia is known as the "university city"
The Umbra Institute is just one, and probably the smallest, of multiple universities in Perugia. What I was surprised about was how many students there were from the other universities. The University of Perugia and the University for Foreigners together have around 30,000 students. This means you're bound to meet some college students who are Italian or from other countries. Umbra even hosts some events and has classes that these students can attend.
5. Coffee is essential to Italian life
If there is one thing that Italians are always passionate about, it's coffee. Coming from the US, most of us are used to drinking big cups of coffee, often iced. If you try to drink coffee this way in Italy, you'll struggle. Don't worry- there are ways to get your iced coffee fix (my favorite spot is Pinturrichio's), but it is much more common to order an espresso or cappuccino in the morning. Umbra conveniently has 2 vending machines where you can get whichever hot coffee you prefer!
6. The double meaning for a "bar"
Did you know that a bar in Italy does not just mean a pub? This one really surprised me! Practically every bar- which is known in the US as a cafe, transitions into a bar for drinks at night. I guess it makes sense that they use the same word for both!
7. Clotheslines are the natural dryers of Italy
Okay, this one I knew before coming to Perugia, and it made me nervous. Although I wasn't surprised by it, there is a learning curve to the art of getting your laundry done. Planning ahead and communicating when you need to use the drying racks or clothesline with your roommates are essential. But in no time, you'll get the hang of it and it will become "the new norm".
8. Perugia is part of the "green heart" of Italy
The Umbria region is the furthest south-landlocked region of Italy. They embrace the beauty that is shown throughout the region and are nicknamed the "green heart" of Italy. There are lots of fields and hiking trails around- which if you love the outdoors like I do, will make you feel at home. The Apennine Mountain Range can also be seen from Perugia as well, showing great views of snow-capped mountains in the region.
9. From Baci, to Perugina, to Nutella, Perugia has your chocolate
Among many specialty foods, chocolate is one of the biggest products in Perugia. Throughout Italy, people adore a good chocolate cornetto, or practically anything topped with Nutella. I found out that Nutella was first invented in Italy, making it very popular. In Perugia, Perugina chocolate is supreme, and chocolate stores selling 'Baci' can be found everywhere. For chocolate lovers, you're headed to a great place! You can even participate in chocolate-making classes, and yearly chocolate festivals.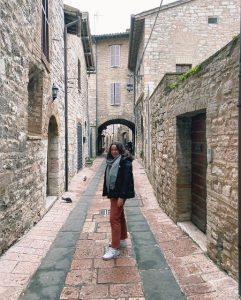 10. Perugia is an Etruscan city, with a history that is over 2300 years old
You may have noticed in pictures that the Umbra Institute is located in a historical city center. However, you may not know that Perugia is one of the oldest cities in Italy. It started as an Etruscan town, which is still represented through the walls surrounding the city and a huge arch in the center. There are many hidden historical facts and architectural finds within the old city, which you will have to find for yourself!
11. There are train lines that connect to the major cities
Perugia is located in central Italy, between Florence and Rome. Although it may not be a town that Americans have heard of before, it is located in the central area of Italy and works as a travel hub both north and south. There are easily navigable trains and buses that can take you to Florence or Rome, as well as many other Italian cities, as you wish. I quickly became accustomed to the trains and how to get places, and I'm sure you will too.
12. Italian is heard throughout Perugia
Because Perugia is less exposed to international tourism, Italian can be heard everywhere. It might be a bit nerve-wracking to take on a new language, but it truly makes the experience so much more authentic and exciting! Don't worry- community members are happy to speak slowly, and we are always encouraged to go to the staff at Umbra with any questions we might have. I was surprised by how quickly I was able to adjust to living somewhere where I had no language experience prior.
13. The Umbra Institute is a small university with a big community
Coming from a larger American university, I was so surprised when I found out there were only 96 people in my program. However, once we got to Perugia, it made sense that our program was small in order to provide a bigger sense of community. With small classes, it's been easy to make friends and get to know the professors and staff. I was so surprised when they had all of our names memorized within a week! They want to get to know the students, and with all the community outreach and field trips that happen, it's easy to become close with everyone. Even though the program is small, Umbra has a surprisingly large network of connections throughout the region as well, making the little university more known by the community.
14. Buying a slice of pizza using a coin…
Coming from the US, we all noticed how the food costs less in Perugia. Local products are known to be especially cheap which makes it easier to go out to eat and taste some Italian foods. Another small thing that surprised me about this also was that people are a lot more likely to pay using coins and cash. So when you're going to grab that slice of pizza for a euro, grab a coin to pay and the owner will be appreciative!
As someone who insisted on researching everything I could before studying abroad, I didn't expect to have so many cultural differences that would catch me by surprise. Don't worry though, there is nothing on this list to be afraid of. Each new unexpected thing we experience while studying abroad can lead to exciting new adventures, a funny story to tell, or something that can even remind you of home. I hope this list gives future students, families, and friends a peace of mind and sparks excitement about studying abroad. And although I can speak on my own experiences, there are so many things out there for you to discover, so get out there and enjoy studying abroad!