Tim's Guide to Perugia Nightlife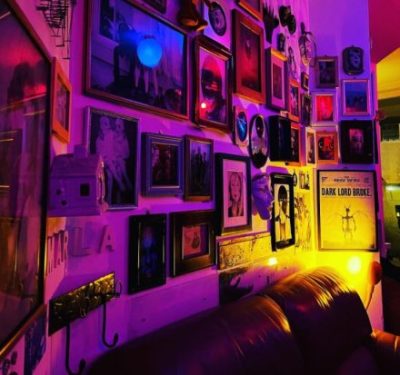 Written by Umbra Rep Timothy Ringie, University of Massachusetts – Amherst 
I've always had a pretty strong idea of what I wanted my study abroad experience to look like. I knew that I wanted an experience other than one in a large city such as Florence, Rome, or Milan where I'd be surrounded by hundreds of other American and English speaking students and tourists. I wanted the opportunity to practice my Italian and not be able to solely rely on my English in everyday life. In order to do that however, I knew I needed to find a program away from popular destinations and to find one that would provide true immersion into Italian culture.  
As I departed the US for the Umbra Institute, the one thing that concerned me most was that I was sacrificing the opportunity to enjoy a vibrant nightlife. It's not that I was expecting zero nightlife in Perugia, it was just that I assumed it would be vastly different, and on a much smaller scale, than what I would have experienced in Florence or Rome. Wow, I could not have been more mistaken!
During my first weekend here in Perugia, I saw a side of the city I was not expecting. Granted, the population here (160,000 give or take) is far less than that in Rome or Florence, so the nightlife options are less numerous. I believe, however, that this works in Perugia's favor. Something that I wasn't aware of before arriving in Perugia was the amount of students that can be found here. The Umbra Institute is just a small part of the overall student body here in the city. Besides the Umbra Institute, there are somewhere around 40,000 students, broken up between the Università degli Studi di Perugia (the Italian University) as well as the Università per Stranieri di Perugia (the University for Foreigners). That means that in addition to a large number of Italian students, there are students here from all over the world as well.
During my first weekend here, I was astounded at what I saw; when I left my apartment at night, the first thing that hit me was the noise. Normally on Via dei Priori, the street which I live on, is not loud at all. The street is lined with shops and restaurants so there are usually a lot of people out and about but not like this. I was greeted by group after group of people making the long walk up the steep hill toward the city center. As I walked up the street, it just kept getting louder and louder.  Doorways which seemed unassuming during the day opened up and there were crowds of dozens and dozens hanging around and chatting. As I neared the top of the street, I ran into a literal wall of people, who were all crowding around the entrance of a popular bar called "Gold Bar". As I made my way through the maze of people, rattling off "mi scusi" and "permesso", the noise just got louder. I rounded the corner and I looked towards the main square Piazza IV Novembre, I caught a glimpse of what my weekends would be looking like for the next few months. There were literally thousands of people in the square, all congregated in large and small groups. I had certainly not expected such a vibrant nightlife and that was only a taste of what was to come!
As I got more settled into life in Perugia, I began to understand the "nightlife habits" of the Italians as well as the fun spots to go to in Perugia. One thing I noticed is that compared to the United States, everything starts later here in Italy. Aperitivo, which serves as a sort of appetizer to dinner where you meet up and chat with friends, occurs around 6-8pm.  Along the Corso Vannucci, the "main street", there are restaurants set up outdoor seating in the middle of the street which creates a very lively atmosphere. Italians usually don't start eating dinner until around 8pm and there is no shortage of great restaurants to choose from. After dinner, everybody takes to the streets and before you know it, the streets and piazzas are completely full of people.
Everyone uses the Piazza IV Novembre as a meeting point to decide where to go. Maybe you'll decide to make the quick walk just past the cathedral to Dempsey's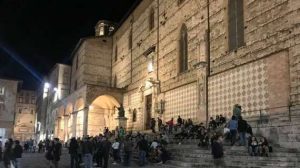 bar, an American-owned bar which always has a huge ground outside, but even though it's an American bar, there is no shortage of Italians outside. Or maybe you'll decide to walk around the corner to Marla's, a two-floored bar which normally hosts live music. There are also plenty of great areas away from the main piazza and great spots to practice your Italian the further you go from the piazza as they are where the locals tend to hang out. Streets like Corso Cavour and Via della Viola are great areas to interact with the locals. Via della Viola, with fun places like C'era una Vodka or Agricola, is very interesting as you can hear street musicians playing well into the late hours of the night. But watch out as you may have to squeeze to the sides of the street every once in a while as an unfortunate driver tries to navigate through the crowds of people! If you're into dancing, maybe you'll visit one of the few discotecas right outside the city, although I personally haven't visited them as nobody wants to see my dance moves. Or better yet, you may even run into some of the Umbra Institute staff at Elfo's Pub right off of Via dei Priori collectively enjoying a soccer match on the large projector there. There is no shortage of great venues and spots for 
all here in Perugia.
Despite all these great places I've mentioned, they've not been the most memorable part of the nightlife for me here in Perugia. The most memorable for me by far, has been the people. What makes Perugia fundamentally different from a larger city, is the fact that you really feel like a part of the city and community. I have had the wonderful opportunity to meet people from around the world here, not just from Italy but from countries far and wide like Canada, Spain, France, Russia, South Africa, Germany and more. Perugia feels like a melting pot where everyone is open to meeting new people. In larger cities, people are often wary of those they don't know and will only stick to their friend group. Here in Perugia I've found myself engaging in conversations with people from different countries and cultures, with widely different ages and backgrounds. The people here are excited to meet new people and hear their stories. 
After having been two and a half months here in Perugia, I seldom go out on a weekend without running into someone who I've had a conversation with at some point or another. It's a really nice feeling when someone you have met from another country remembers your name! Perugia is the best of both worlds when it comes to the nightlife; it is big and diverse enough that there are plenty of options in terms of a night life for those who want it, but it is also small enough to provide awesome opportunities to make connections with the city and the people and form real friendships.