Perugia
Study Abroad
Travel
Umbra Blog
Top 5 Day Trip Destinations near Perugia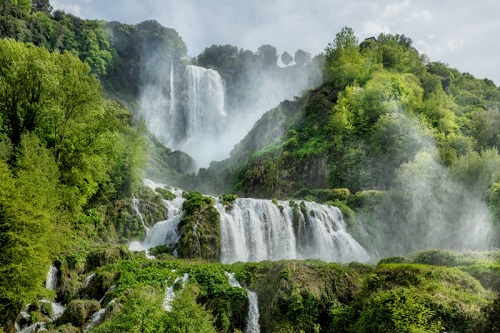 It is almost summertime, the weather is (finally) getting warmer and Umbra staff is preparing for the arrival of summer students. We cannot wait for you to be here and explore our beautiful city of Perugia but we know that traveling will be an important part of your stay. If you're already doing a bit of research and planning, we would like to give you a few suggestions for places to visit in our region! They include medieval hill towns, a surprising national park in the Apennine mountains, a lake with incredible sunsets, and the tallest waterfalls in Italy. So without further ado, here are some gems for your day trip destinations:
Spoiler alert: Assisi and Orvieto are not on the list. Their beauty is famous well beyond Italian borders.
Le Cascate delle Marmore (Marmore Waterfalls)
In need of a refreshing day? Then, Marmore is the right destination! Offering a range of activities including hiking, rafting, and river walking, this man-made waterfall is the perfect way to take a break from the city.
Originally created by the Romans (271 BCE) to redirect the influx of water to other rivers, and later modified by Aristotle Fioravanti (1422) and others, this three-tiered waterfall still impacts water influx to this day. This journey through Italian architectural ingenuity has inspired countless artists and continues to do so. The surrounding area provides a range of 'mercatini' (markets) selling paintings, frames, and more local art to enjoy. Just don't forget to check the opening times before you go so that you know you'll get to experience the full majesty of the thundering falls.
From Perugia: take a 1 to 1-hour and 30-minute train to Terni then hop on a 20-minute bus from Terni to the Cascate. Total cost: around 9 EUR
Entry fee: 12 EUR
Link: Cascate delle Marmore Website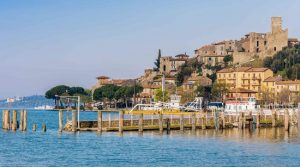 Lake Trasimeno
Hop on a train to Passignano and… rent a bike here or in any other bike store! The Trasimeno bike path unfolds along the lake perimeter. You will pass through typical villages like Torricella, San Feliciano (famous for its sunsets), and Tuoro, where you can take the ferry to Isola Maggiore. Castiglione del Lago is another great town by the lake, full of history and great restaurants. You can easily get there by train.
From Perugia to Passignano by train: 30 minutes by train. Cost: 5 EUR
General Information: Lago Trasimeno Website
Gubbio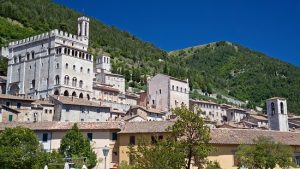 Gubbio is one of the most ancient towns in Umbria, remaining marvelously well-preserved over the centuries, with many monuments that bear witness to its glorious past. Construction began in the early 14th century on the superb complex that includes the Palazzo dei Consoli, a symbol of the town and home of the Picture Gallery and Archeological Museum. Do not miss the Eugubine Tablets (seven bronze tablets written in Umbrian language) at the Civic Museum in Palazzo dei Consoli.
From the Perugia bus terminal in Piazza Partigiani, take the bus E001 to Gubbio: 1 hour and 15 minutes; Cost: 6,50 EUR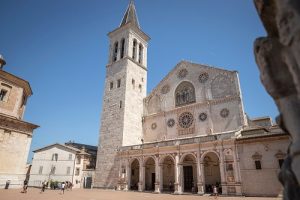 Spoleto
Just an hour's train ride from Perugia you'll find Spoleto, a beautiful town complete with a functioning Roman Aqueduct/bridge, intact Roman theatres, cathedrals, local markets with artisan products, and an abundance of historical museums showcasing the rich culture and heritage. The most prominent event is the 'Festival dei 2Mondi' (Festival of 2Worlds) founded by the Italo-American composer Gian Carlo Menotti in 1958. This festival takes place during the last week of June and the first week of July and attendees can browse through exhibitions involving art, dance, music, theatre, and more.
Spoleto's alluring nature and historical importance have made it the protagonist of numerous films and will undoubtedly leave an impression on every visitor.
From Perugia by direct train: 1 hour. The regional train ticket costs 6,80 EUR.
Monti Sibillini National Park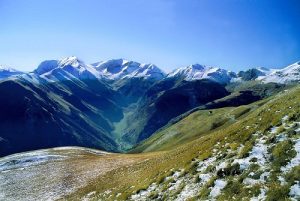 This National Park is really off the beaten track for international tourists! Tucked away within the Apennine Mountains, Monti Sibillini National Park is a wild and wonderful destination in Umbria. Dotted with medieval villages, lakes, and legends, it's a popular destination for outdoor adventures, such as hiking, biking, rafting, and canyoneering. Wildflowers and wildlife are abundant in the park, from orchids to wolves and birds of prey.
Norcia is the main town in the area, and although it was damaged during the 2016 earthquake, it still preserves its medieval charm. Norcia is also famous for its cuisine, hams, and cheeses, and you will find plenty of affordable shops and trattorie. However, if you decide to invest some more money in a unique food experience, bear in mind that Norcia is home to one of the three Michelin-starred restaurants in Umbria, the Vespasia.
It is not very easy to get to Norcia from Perugia. That is why you might opt for a weekend trip. However, a direct bus connects Spoleto with Norcia in less than an hour at a very low fare.
General information: Monti Sibillini National Park website
If you are looking for more destinations, please refer to our QR handout guides on the second floor once you're here! Safe travels!