Book a ticket to Cagliari– Right Now!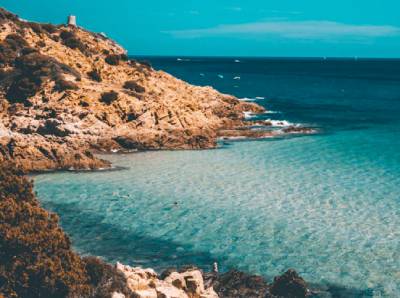 An opinion piece by Elsa Martin
Floating on my back this weekend, a creamy blue sky above me, and jewel-tone waters below, I vowed that I would never leave Cagliari– Sardinia's most southern city. I had a backpack full of granola, a bottle of unopened sunscreen (it's the thought that counts), and a slightly damp copy of Harry Potter e la Pietra Filosofale. What more could I possibly need in life?
I regret to concede that hunger eventually drew me from this particular cliffside beach, and the responsibilities associated with schoolwork did the rest. And so, I am currently not in Cagliari, but at the Perugia public library with a sweater slung around my shoulders to ward off the deep autumn chill. I'd be tempted to write off this weekend's memories as sunshine-drenched daydreams were it not for the photos in my camera roll and the kernels of sand I keep finding in my hair.
Although it is a travesty that I cannot permanently live amongst Cagliari's seaside cliffs, what I find even more devastating is how few study abroad students immerse themselves in southern Sardinia during their time abroad. To rectify this, I have decided to write a blog post– this blog post– with the purpose of sharing Five Highly Biased Reasons Why You Should Visit Cagliari. Here they are, in no particular order.
Cagliari is guaranteed to take your breath away.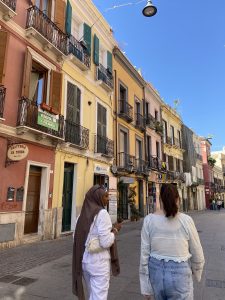 Characterized by tiny streets glittering with soft lamplight at dusk, and charming townhouses painted every shade of pastel and terracotta, the city of Cagliari is a truly magical place to be. Even the more "modern" parts of town are charming and quirky! Moreover, if you gather the courage to take a short bus ride out of the city center (which I highly encourage, considering the incredible public transportation system in Cagliari), the natural beauty of Sardinia hits you like a punch in the gut. The landscape is characterized by creamy peach sand, soaring limestone cliffs, and scrubby brush that grows in tufts of grand spikes, like the stuff of a cubist painting. Even the most trafficked natural locations, like Poetto beach, are absolutely stunning.
Locals are incredibly courteous, humorous, and helpful.
I have never been in a friendlier place in Italy, and trust me, this is saying something! As someone with limited, but growing, proficiency in Italian, I am always looking for ways to improve– however, my eager attempts to communicate in Italian are not always reciprocated with enthusiasm. This was not the case in Cagliari. Most people I met went the extra mile to chat, asking about my background and the specifics of my study abroad semester and guiding me with good humor as I stumbled through the answers in Italian. I had three separate people give me recommendations for places I had to see/visit/experience in their home city, one of which came in the form of a tiny hand-made guide printed on a sheet of computer paper. My fondest memory from the trip was a half-hour conversation I had standing on a tall rock in the middle of a remote beach cove, chatting with a local who happened to anchor near me in his boat. He taught me how to say "sei pazza," which apparently means "you're crazy," which he laughingly repeated as I verbally contemplated jumping into the water below me.
With both city and nature, Cagliari is a paradise for pretty much everyone.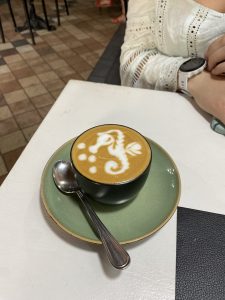 Not much more to say than that! Along the bustling streets, there are seemingly infinite places to shop, eat, and admire historical landmarks. More surprisingly are the hiking options found within the city itself, in the form of natural forested hills left untouched by urban development. However, I would advise the intrepid explorer to go either east or west, to the more remote and hard-to-reach beaches. We found a fabulous hike-in-only beach for cliff diving, but this girl never jumps and tells… just trust me when I say the remote coastline is well worth a visit, if you aren't afraid of a little walking.
From culurgiones to calamari fritti and everything in between, food in Cagliari is off-the-hook amazing (get it, because most of it is seafood… wow, I crack myself up sometimes). There are also a billion incredible coffee shops and craft breweries, which made me feel at home, coming from the east coast. In this way, Cagliari had a smattering of local goodies and familiar tastes which delighted both taste buds and soul. Our favorite spots were Caffe dell'Arte Specialty Coffee for breakfast, Ittica Aeden for a street seafood lunch, and Old Friend Bar & Bistro for dinner. One thing is certain– you won't be going hungry here!
Well, there you are! If you haven't booked your ticket by now, I only have one thing to say to you: sei pazza!

How to get there from Perugia
Check out Ryan Air for direct flights from Perugia Sant'Egidio Airport in Assis on Fridays with Sunday Return. Or check direct flight from Rome Fiumicino Airport (FCO) to Cagliari (CAG).