Perugia
Student Life
Umbra Reps
Making Friends Abroad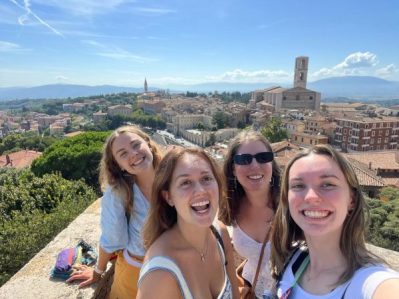 An opinion piece by Vanessa Sordello
Who would I go on adventures with?
One of my biggest concerns before moving abroad was making friends. I was so eager to satisfy my list of activities that when it came down to who I would incorporate into my plans, I got anxious. Who would I travel with? Who would I get aperitivo and dinner with? Who would I go on adventures with? But I'm here to promise you one thing: everyone else is in the same boat. Hopefully it's reassuring to know that you will be placed with roommates who are also looking to meet new people. At the start of my time abroad, my 3 roommates and I were inseparable. None of us wanted to be alone in the city let alone travel solo! We did everything together from going on day trips to simply walking to class. It really was mind-easing to have people there for me right off the bat. However, I can't guarantee to you that your roommates will become your best friends. If you've never experienced roommate life before, let me tell you that it is 100% possible that you guys might not get along. It is also common for you and/or your roommates to develop other friendships. My piece of advice is to not take it personally if your roommates begin to stop doing everything with you. Even though your situation might be that you and your roommates merely cohabitate, it's inevitable that you'll have people there for you the minute you arrive.
Making friends in Perugia
One of my favorite things about the Umbra school in Perugia is the size of the program. During my semester there were 100 students, which to me was neither too big nor too small. I was able to meet different people throughout my 5 classes, immersion week, my apartment building, field trips, mutuals and going out. Henceforth, there are many ways to get involved socially. Something I recommend is making or being added to group chats. During my time abroad, we had multiple group chats. We had one for the apartment building, where we would coordinate pasta nights; one for the entirety of the Umbra students, where we would announce going out plans or events happening in the city; and a bunch of individual chats for weekend excursions. I know to some people group chats can seem daunting, but it is one of the most efficient ways to get yourself involved socially. However, one thing I was not prepared for before arriving was the fact that some people might already know each other, and might even be good friends. Although this might seem cliquey, I can affirm to you that it's rare. And hey! Maybe these besties need a travel group!
Merging with the community
The final group of people to make friends with are the locals. Umbra is located in the city center of Perugia and many students from the University for Foreigners and University of Perugia hangout in the center. I highly
suggest making local friends, this way you can explore hidden parts of the city, practice your italian and become more immersed. You can start by sparking up a conversation while in line at a bar, or attending weekend excursions hosted by the University for Foreigners and Umbra. Another great way to meet locals is through Italian class tandems. During these aperitivi, you will get the chance to converse (in Italian!) with Italian students. Take this opportunity to get restaurant or travel recommendations!
Although making friends might at first be stressful and overwhelming, it's truthful to say that everyone else in your program is in the same boat as you. Leverage your social intake by being assertive: ask around who would like to take a trip for the weekend. One final tip to remember is that you're doing this experience for multiple reasons and making friends is most likely only one of them. Remember to put yourself and your goals first and to surround yourself with people who will support you.