Umbra Staff Shares How to have a Buon Natale in Umbria
Due to its history and modern relationship with the Catholic Church, Italy is a country that gets particularly excited about the Christmas season and its celebration. In the past, the Epiphany, held on January 6th, was more widely and extravagantly celebrated. However, in recent years Christmas has become equally important to the Italian Holiday season. The festivities begin the first week of December with the decoration of city centers and the arrival of Christmas markets that fill the streets and, in Perugia's case, the Rocca Paolina, which used to be the Pope's fortress until the late 1800s.
Here are the top 5 ways that Umbra's Italian Staff members celebrate the December Holidays:
5. Fish vs. Meat
When asked about Christmas Traditions, Umbra's director of the Food & Sustainability Studies Program, Elisa Ascione, was first to mention that on Christmas Eve, known as the Vigilia in Italy, Italians eat fish, and lots of it! This tradition is primarily practiced in the South of Italy and is linked to the Catholic tradition of abstinence from meat, considered a less pure food, as they await the birth of Jesus. On Christmas day, however, meat returns to the table, in abundance, as Italian families gather together to celebrate around traditionally prepared feasts.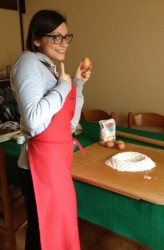 4. Eating Pampepato
A number of staff members crave Pampepato as the holidays approach. Pampepato is an Umbrian holiday sweet made with walnuts, almonds, cocoa, cinnamon, nutmeg, honey, and, of course, sugar! Italian mothers or grandmothers typically bake this sweet to be enjoyed throughout the holiday season.
3. Briscola and the Bestia
During the Christmas season, it is very common for Italian families to gather together and find entertainment within decks of cards. Marco mentions that some common games in his family include Briscola, Scala 40, Machiavelli, or even Bestia, which he describes as "an inception between Briscola and Poker". Barbara adds that she looks forward every year to her family's Tombolata, an Italian version of BINGO.
2. Babbo Natale and la Befana
The white beard and jolly spirit of Babbo Natale, Father Christmas, are on the minds of young Italian children as they anticipate Christmas day. Italian families often open their gifts to each other at Midnight, the evening of Christmas Eve, before everyone makes their way to bed to await the arrival of Babbo Natale.
La Befana, however, is the more traditional gift bearer, and Anna's favorite! According to legend, the Three Wise Men, lost on their way to find baby Jesus, stopped at the home of an old woman to ask for directions. The old woman was unable to give the men directions but they invited her on their journey anyway; she declined the invitation only to realize, shortly after, that she should have gone. The old woman then went in search of the Wise Men but could not find them. To make up for the missed opportunity, she then stopped every child to give them a small gift in hopes that one was young Jesus. Now, Italian children leave a stocking for the Befana on the Epiphany each year, waiting for her to leave a gift as she continues her search for Jesus. However, if they were naughty children, they are likely to get a lump of coal in their stocking. Do not worry, the coal is made of sugar!
1.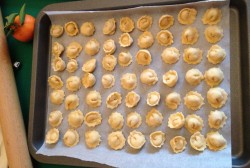 Cappelletti
Almost every member of the Umbra Staff, in anticipation of the holiday season, excitedly describes the family tradition of making and eating Cappelletti, served in a warm broth. Francesco describes Cappelletti as being a sort of tortellini made with a meat filling. He says that his entire family usually gets together in early December to make many, many cappelletti by hand before freezing them and waiting to eat them together on Christmas day.
Merry Christmas and Happy Holidays, from the Umbra Institute!