A Day in Assisi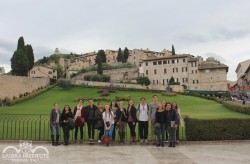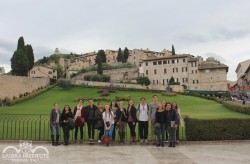 On Friday, October 9th, HSWS 380 Saints, Sinners and Harlots, students faced the sharp winds of a fall morning in Umbria to meet Professor Adrian Hoch for a day trip to Assisi. HSWS 380 is a course that focuses on the lives and importance of medieval women who were and are still associated with the Catholic Church. The day trip was designed to help students review course material before this week's midterms by viewing churches dedicated to Santa Chiara, as well as churches relative to the story of San Francesco, in order to understand Santa Chiara's journey, life, and dedication. Umbra firmly believes in an active learning style that encourages students to look outside their books and PowerPoints for examples of what was taught within the classroom.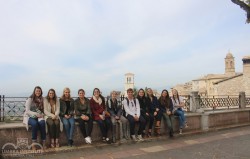 Professor Hoch's passion for Medieval and Art History radiated through her explanations of Santa Chiara's flight from near San Rufino, in the center of Assisi, to 
where San Francesco was serving the church, where the current Porziuncola di Santa Maria degli Angeli is located. Students' attention was drawn continuously to the art depicting the lives of San Francesco, Santa Chiara, and the "Poor Clares" (a group of women who followed Chiara's teachings) as they literally walked through the journey of Santa Chiara.
To learn more about Umbra's upcoming and interactive course offerings, click here!