Community Engagement
Perugia
ServiceLearning
Umbra Blog
Uncategorized
Community Engagement – "Green Cities: A Sustainable Future" projects at Orto Sole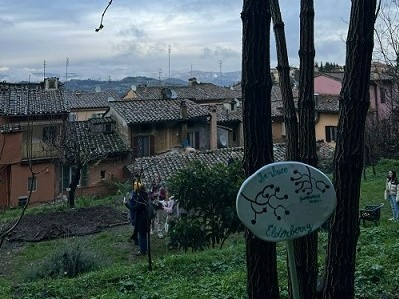 On December 13th, professor Viviana Lorenzo and the students from her "Green Cities: A Sustainable Future" class invited Umbra faculty, staff, and students to visit the Orto Sole didactic urban garden and see all the amazing projects her class has been working hard on during the Fall 22 Semester.
Until recently, the urban garden known as "Orto Sole" (pronounced "orto-so-lay") was a mostly forgotten steep agricultural plot on Perugia's north-facing hillside. Several years ago a non-profit association was created to re-develop this area as an urban garden: its members rebuilt the garden's terraces, pruned the grape vines and aging fruit trees, and started hosting community groups in the beautiful green space just below the city's most famous panorama – Porta Sole.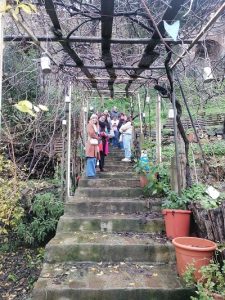 In September 2021, the Umbra Institute assumed management of Orto Sole to revitalize the garden and develop it as a living laboratory for the Institute's Food, Sustainability and Environment program. The Institute will use the green urban hillside as its "outdoor classroom": continuing the garden's use as a didactic space, exploring new agricultural technologies, and sponsoring community-engaged learning projects with local partners.
After much work done during the Fall Semester of 2022, The hopes and expectations of Green Cities' students are that Orto Sole will not only become a community garden and a place that contributes to the beautification of Perugia, but first and foremost that it may slowly grow into a space dedicated to sustainable agriculture, starting with the use of recycled material only.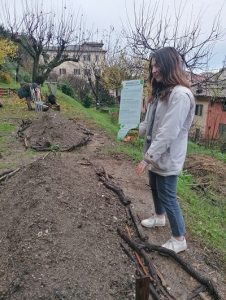 Some of their projects for example involved the creation of Hugekultur, layered mounds of decaying wood debris and other compostable biomass and plant materials, left to break down in time into a nutrient-rich raised bed. Another project of agricultural value was surely the Worm Towers, structures where worms will gather and consume the organic compost inside, and will then spread in the garden and fertilize the soil.
As for community value projects, we have some beautiful ones too! From spots and benches where you can sit and enjoy some tea, to wooden and ceramic boards all around, up to the embellished stair area with lights and candles, all culminating with the significant Gratitude Tree! This project was inspired by Orti Dipinti in Florence, and students wanted to recreate it here together and hang up gratitude notes, either for their hard work or for their study abroad experience and the friends they made here, given that, as student Shreya affirmed, "people make places."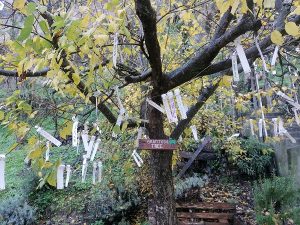 Student Jenna Bryant said as well: "Orto Sole was and forever will be my favorite place to be in Perugia. A lush green food forest in the heart of Perugia, overlooking the green rolling hills of Umbria, was always a place that made me feel at peace during the past 4 months abroad and I can't imagine my time without it. I always enjoyed volunteering weekly in the orto and getting my hands in the soil, even if it meant being covered in mud and dirt for my next class. I am really proud of what we accomplished as a class this fall semester in Green Cities. I feel like we really made all of our goals and ideas come to life, and it is great to see that we have left a permanent physical mark on Orto Sole."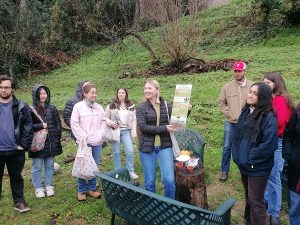 Needless to say, we are proud of the work that has been put into the Orto, and both as Umbra body and as part of the bigger Perugian community, we hope more will continue to be done in the future!
To learn more about Umbra's Community Engagement programs and activities, check out our website at: www.umbra.org/community-engagement-abroad/.