Developing a New International Business Strategy for Local Umbrian Producers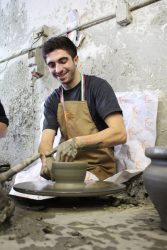 IBST 380 students create their own Deruta ceramics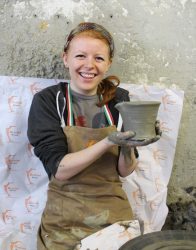 IBST 380 students create their own Deruta ceramics
This past Friday, IBST 380: International Business Strategy students visited Bettini Deruta, specialized producers of artisan Deruta ceramics. The tour began in the Bettini production facility where students observed artisans who had been creating Deruta ceramic pieces for 20 to 40 years. The artists invited students to make their own Deruta ceramics out of locally sourced clay in order to familiarize themselves with the production process. As students created their pottery, they asked questions about production costs, the type of clay that was being used, the longevity of the machinery, the firing process, and the production cost versus the sales revenue.
Next, the class was brought to Bettini's showroom where they learned about how international markets differ not only in design selection, but also in utility preferences. For example, northern Europeans prefer practical, simple objects for daily use, while Italians prefer detailed pottery to display in their homes, and Americans lean towards blue peacock feather design plates. At this time, students took the opportunity to ask about online sales, retail connections and potential for distributors, social media and marketing strategies, and more.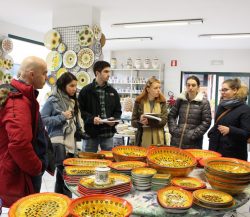 During this visit, Bettini owners were completely engaged in discussion with the IBST 380 class and have already begun reviewing student advice by opening an Instagram account and reactivating Facebook in order to experiment with a new online marketing strategy.

Throughout the semester, the IBST 380 course will learn various elements of constructing a clear business strategy for globalizing companies. In class, students learn about the relative theory and then apply their newfound knowledge to their service learning project where they will analyze Bettini's business strategy. At the end of the semester, students will formally present their recommended tangible strategies to the owners of Bettini.
To learn more about Umbra's business courses, click here.