Featured Blog Articles
Umbra Blog
Umbra Builds Bridges Across Culture
Acclaimed academics from across the globe are trickling into the Umbra Institute to collect registration packets for Bridges Across Culture, an international conference on the arts and humanities. The conference will launch its first session from 3-5 p.m. Thursday at the Ranieri Foundation and Umbra's Via Bartolo location.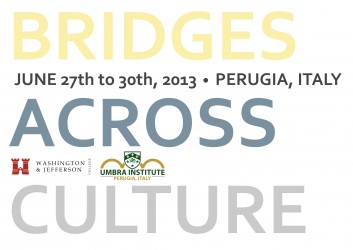 Running through Sunday, Bridges Across Culture serves as an environment in which academics with cross-disciplinary interests meet and interact with their international counterparts. Lecture topics range from Dante to African Studies to the "Art" of War, presented by professionals from Wyoming to Istanbul.
Umbra is sponsoring the first-time international conference in cooperation with Washington & Jefferson College.
"These international conferences reaffirm the Umbra Institute's role as not simply a study-abroad program for highly motivated students, but also a place where intellectual exchange and research takes place among faculty and scholars from around the world," said Bridges Across Culture organizer Dr. Elgin Eckert, an Umbra professor who coordinated last summer's Food Conference. 
Conducted in English, the conference is free and open to the public. Eckert encourages Umbra students to take advantage of the opportunity. For a detailed schedule of the conference, click here.