Orientation and Congratulations: Perugia Welcomes Umbra's Fall 2015 Students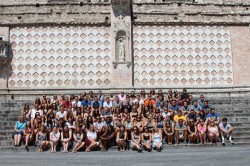 Sunshine greeted Umbra's Fall 2015 students at Fiumicino Airport and accompanied them to Perugia as they arrived on Friday. Umbra staff met the students in Rome and brought them to the Hotel Giò by private bus – allow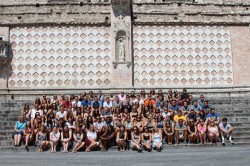 ing a short period of rest before they got their first glimpse of the outskirts of Perugia. At the hotel, more staff was introduced and packets containing information regarding everything from emergencies to academics were provided. In the evening, students were able to mingle and get to know their future classmates during a three course welcome dinner provided at the hotel, courtesy of Umbra. 
On Saturday morning, the excited newcomers were given more specific information about Perugia and their apartments before being shuttled to their new homes in the city center. That same afternoon, students took their written and oral placement exams, took advantage of Umbra's open house, and participated in walking tours of the city center. After burning through Friday night's calorie intake, it was time for more! Students then enjoyed their first complementary Umbra pizza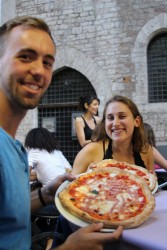 night in the heart of Perugia.
On Sunday, Students met for a standard orientation day but were joyously surprised by a spontaneous bride and groom that quickly became excited about including everyone in their wedding celebrations. Students posed for photos with the couple and took their own pictures before wishing them Congratulazioni and making their way to the orientation meeting. During the Orientation meeting students learned about the inner workings of Umbra and what to expect throughout the semester. After a charismatic discussion with an influential Italian police officer, students were invited to ask questions and share their thoughts with Umbra Staff.
Today is the first day of Umbra's Intensive Italian Week; a special language intensive program that provides linguistic instruction in the morning as well as a more practical afternoon lesson during which students are escorted through the city to learn how to do things such as use public transportation and shop in the local supermarket. After their intensive studies, students will begin their elective courses next week. Benvenuti e in bocca al lupo!