Student Perspectives: What is Tandem?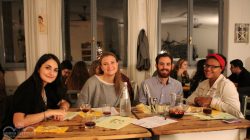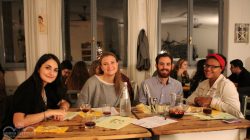 Students enjoy discussing lifestyle and cultural differences among friends
Learning the local language is an important part of studying abroad in Italy. For this reason, Umbra organizes a number of cultural immersion activities, including Tandem. The goal of Tandem is to provide students with intercultural competencies acquired through a relaxed, conversation-oriented environment. Italian and American students meet for Tandem multiple times each semester to practice their respective languages, compare cultural practices, and forge friendships, all within the comforts of a local Italian pizzeria.
During last night's Tandem event, students were asked what they enjoy most about Tandem. Gabrielle Swain, from Pennsylvania State University, shared, "I like coming to talk about the lifestyle differences between here and home. It is a great way to learn about Italian culture."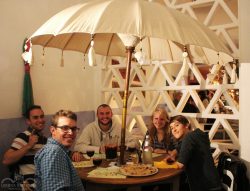 Olivia Rhodes, from George Washington University, commented, "I love Tandem! I think I understand Italian at this point, but speaking is still hard. I practice with shopkeepers but those conversations don't take very long. Tandem is an opportunity to practice my Italian and not be embarrassed about it."
Akosua Ako-Addo, from Arcadia University, expressed that, "Getting to practice Italian in a semi-controlled environment lets me feel more comfortable than in a street where 'survival Italian' is all I speak."
Click here to learn more about opportunities Umbra students have to immerse themselves in Italian language and culture.