Students Pick Up Tips at Travel Workshop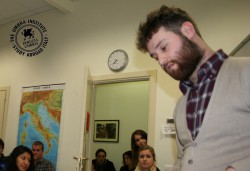 Umbra's largest classroom overflowed with students eager to attend the Travel Workshop on Monday evening. Led by  Umbra SIT intern Julia Bourque and staff members Marco Bagli and Caitlin Addlesperger, the workshop offered tips and tricks for traveling independently around Italy and internationally on a student budget.
After advice ranging from what to do if your passport is lost or stolen to how to avoid Ryanair's infamous hidden fees to Couchsurfing anecdotes, students left the workshop well-versed on what to pack (or not), modes of transportation (check out this in-depth site about trains!), and inexpensive lodging options. 
If you missed the Travel Workshop, stop by the front desk and pick up an Umbra packet of useful travel information and the "Almost All You Need To Know While Abroad Pocketbook," a handy pocket-sized guide to student travel from Weekend Student Adventures, the company of travel writer Rick Steves' son, Andy Steves.
Buon viaggio!