Flash Mob With a Purpose: Urban Spaces Students in Borgo Bello
Students in Umbra's Urban Spaces course are redefining community. This course aims to give students an understanding of, and appreciation for, the relationships between people, perceptions, identity, and public space. Since September, the class has been examining Perugia's Borgo Bello neighborhood as a "real world classroom" where citizens are determined to utilize space in a way that is beneficial for the community. Borgo Bello's Neighborhood Association has conducted numerous innovative cultural and commercial activities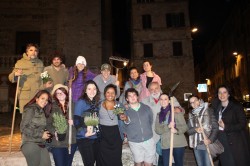 and events to revitalize its territory in recent years, and the citizens value Umbra students' ideas and input regarding these projects.
One major project in the works would create a sustainable community garden in the neighborhood. Last week, Umbra students moved the project forward by conducting a "flash mob" through Borgo Bello. Along with members of the Borgo Bello Neighborhood Association, students passed out seeds to local shopkeepers and passerby as a  way to raise awareness and begin a discussion about the many advantages that a garden would present to the community.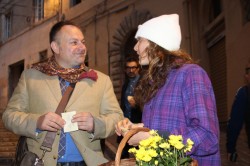 Prior to the flash mob, two Umbra students presented at a meeting whose audience consisted of members of the general public and the head of the Neighborhood Association. The girls discussed how working with the Borgo Bello community has positively impacted their time studying abroad in Perugia, highlighting the personal relationships they've formed and the inspiration that comes from seeing an idea come into fruition. Stay tuned for updates on their continued progress!