Writing and Sharing: Umbra Student Organizes a Creative Works Night in Italy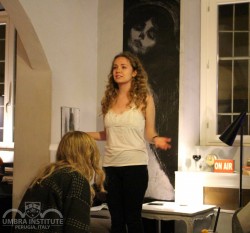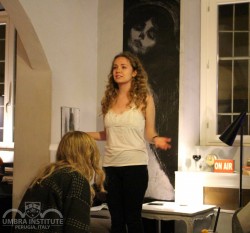 When Sophie Panetti, a student from Gustavus Adolphus College, came to study abroad in Perugia, Italy, she decided to make her mark on the community by organizing a student-run Creative Works night, which was designed as a casual open-mic night. During this event, students were invited to publically read their own writings, or those of their favorite authors, at the local Alphaville Caffè.
Not only were American students present, but students from the University of Perugia and the University for Foreigners of Perugia also attended, both to listen and to read. Nearly 30 students made their way to the event where readings lasted for over an hour. Sophie opened it up with It All Counts, a personal poem about the beauty of all art, to encourage participants to not be shy, no matter what their preferred literary genre.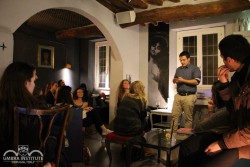 "If you are searching for a group of people that share an appreciation with you, search for it. If there isn't already a group that meets to share this appreciation, start it yourself! Don't wait for it to come to you. Don't leave Italy wishing you'd started something here," said Sophie as she shared her passion for creative writing and her motivation for organizing the event.
Throughout the evening, some students read pieces by authors such as E.E. Cummings and Patricia Lockwood, while others read their own writings relative to social issues, life in Italy, romance, and more. Each student was unique to their own background and form of expression, including: Dutch student, Frank Piels, who read excerpts from the Diary of Anne Frank, in both Dutch and English, before sharing their interpretation and significance to Dutch culture, particularly to that of Amsterdam; and American student, Shameesha Pryor, who shared a more personal piece to challenge societal standards.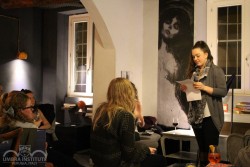 In the end, students seemed to agree with Sophie's closing remark about the importance of writing and sharing: "Study abroad is a step away from real life, and there's no way we can go through it without being changed. To me, the best way to process this change is by writing and sharing."